On Monday, October 8, we were blessed to have powerful presentation on the Death Penalty.  All life is precious. Please prayerfully consider joining the Catholic Conference of Bishops and our own Archbishop Gomez in voting yes on 34.

Click here to watch the presentation 
Jeanne Woodford, former director of the California Department of Corrections and Rehabilitation who served as warden of San Quentin and oversaw four executions, and now executive director of Death Penalty Focus.
Franky Carrillo, a student at Loyola Marymount University who was convicted of murder as a young teenager and spent 20 years in prison as an innocent man.
Fr. Chris Ponnet, pastor of St. Camillus at LAC+USC Medical Center, regional coordinator of Pax Christi USA, and Death Penalty Focus board member.
The California Catholic Conference of Bishops has endorsed Proposition 34, SAFE California initiative which will abolish the death penalty in California and replace it with life in prison without the possibility of parole.  During Respect Life Month, Archbishop Jose Gomez has asked parishes to provide education on Catholic teaching on the death penalty and this initiative in particular.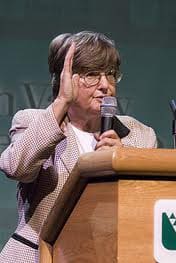 Sr. Helen Prejean, C.S. J.  shared her reflections at Mass on October 7, 2012
To view her reflections click here
Four years ago Holy Family had the pleasure of hearing Fr. Jim Heft speak on Faithful Citizenship, the Bishop's document on the principles for preparing for elections .  It is as relevant today as it was four years ago.  To view this video click here.