Jay Krueger was ordained a Catholic Deacon on June 10, 2017 with his wife and partner, Candy Krueger, by his side. Together they serve as a Deacon Couple for Holy Family Church in South Pasadena where they have been parishioners since 1988.
Jay and Candy generously shared their five year journey of their diaconate formation by writing bi-weekly blogs (visit here to read those blogs). Now that Jay has been ordained and they are serving as a Deacon Couple their blogs will focus on the true call of the Diaconate,  which is "to support those on the margins and call the parish to action as a Deacon Couple."
---
9-5- 2017 Prayers of the Faithful is a call to action.
Every Mass has something in common, while the readings might be different, the homily as well, the music and musicians change, there is one common thread, the prayers of the faithful, also called Universal Prayer. – more- 
August 12, 2017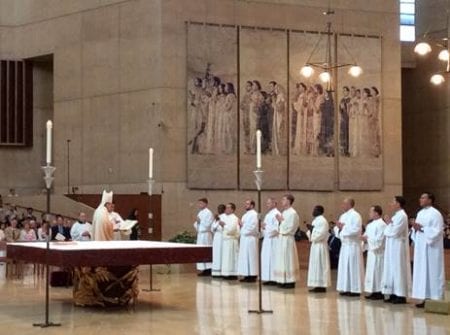 Today was our first day back at the Cathedral since ordination.  We were here to support those being ordained as Transitional Deacons (TDs). Some of the Permanent Deacons (PDs) present, including Deacon Jay, assisted as ministers of the cup for communion. The Mass was led by Bishop Joseph Brennan.
We were informed that this was the first time that the PDs were the ones who congratulated the TDs. It was a wonderful experience! The PDs processed in prior to the start of the Mass. Candy & Deacon Jay processed in together.
Yes, there were differences in the ordination.
Under their albs, TDs wear clerics (i.e. a roman collar) instead of street clothes. They promise to say the complete Liturgy of the Hours instead of just morning and evening prayer. They vow to be obedient to their Ordinary (who could be their Pastor, Rector or Bishop) while PDs take a vow to be obedient to the Archbishop and his successors.
The TDs are not married and take a vow of celibacy while PDs may be married prior to ordination but cannot remarry if their wife passes away after ordination.
After ordination, the TDs do not do first blessings as the PDs do. They pray with those who come to congratulate them.  First blessings will occur after they are ordained a priest which will be next June. They both have a first Mass and a celebration afterwards.
PDs return to work on the Monday after ordination (unless they are retired or take a vacation day). TDs return to seminary to continue their studies.
The functions of a TD and a PD are the same. Once you are ordained a Deacon, you are always a Deacon. Even though those ordained on Saturday will become Priests next year, they will still be Deacons.
Candy and Deacon Jay ask that you keep these eleven men in your prayers as they continue their journey towards the priesthood.
If you would like to read more about Deacons and the differences between the two types, please click on this link.
If you are interested in becoming a Deacon or a Deacon Couple for the Archdiocese of Los Angeles, please contact:
Diaconate Formation Office Archdiocese of Los Angeles
3424 Wilshire Boulevard, 2nd Floor
Los Angeles, CA 90010-2241 213-637-7383
Candy & Dcn. Jay Krueger, Deacon Couple
Holy Family Church, South Pasadena, CA
Email: DeaconJay@holyfamily.org
---
June 23, 2017 Burgers & Bikes Last Friday, we held our first Burger & Bikes event. The idea came about when Fabian, who works at the Holy Family Giving Bank, saw that a number of homeless clients were on bicycles. Most of the bikes were in poor shape and many asked Fabian if he could look at them and maybe help fix them. And thus Burgers & Bikes was born.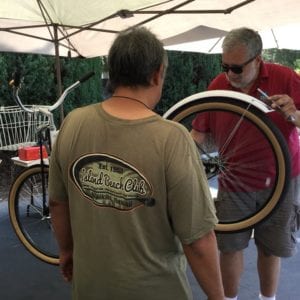 The portable awnings that are used for Monday's Farmer's Market were set up behind the St. Joseph Center. Tables & Chairs and an area for bike repair.
Deacon Jay prepared eighty-eight burgers with all of the fixings.  There was potato salad, baked beans, chips along with snow cones and root beer floats.  There many volunteers that helped with the set-up and clean-up. We are grateful to Fabian & Gaby for doing the lion's share of dish washing. This was the burger part.
Jose from BikeSGV,  Armen from Bicycle Pitstop and Ernie, a friend of a Giving Bank Volunteer, provided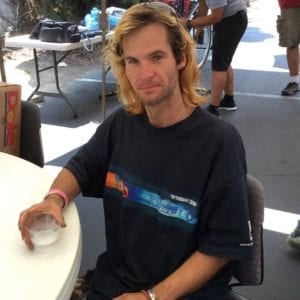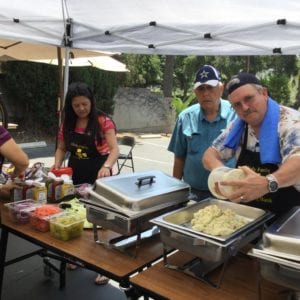 some of the Bike part of the day.  They looked at the bikes that the clients brought in and adjusted them to put them into a safer state.
The last part of the Bike segment was the raffling of six bikes, five used and one new. All of the winners were bike less. One of the winners gave his skateboard to another client who had nothing. The best quote of one of the winners was, "I won't have to walk anymore!"
Bike repair is a service that the homeless clients who go to the St. Joseph need. A service that you can help with. If you have new or used bikes, bike parts, helmets, inner tubes, elbow and knee pads, etc. please contact Marlene or Fabian so we can get and keep our homeless clients rolling!
If you are interested in becoming a Deacon or a Deacon Couple for the Archdiocese of Los Angeles, please contact:
Diaconate Formation Office Archdiocese of Los Angeles
3424 Wilshire Boulevard, 2nd Floor
Los Angeles, CA 90010-2241 213-637-7383
Upcoming Diaconate Information Days:
Sunday, July 23, 2017 from 2:00 to 4:00 p.m. at St. Dominic Savio Parish, 13400 Bellflower Blvd. Bellflower, 90706
Candy & Dcn. Jay Krueger, Deacon Couple
Holy Family Church, South Pasadena, CA
Email: DeaconJay@holyfamily.org