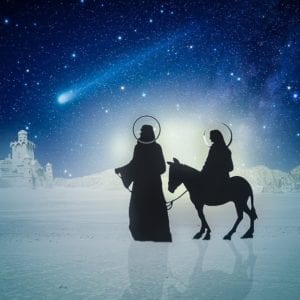 Holy Family's Giving Bank
Adopt-a-Family/Angel Card and Gift Wrappers Needed
Help spread the joy of Christmas through Holy Family's "Adopt-a-Family" program. Share the Light of the season with children and their parents who would otherwise go without this year. Specific information about the needs (size, age, gender, etc.) of each person in the family is included in the information. Families of varying sizes available.
Please consider taking an Angel Card from the altar – The cards have the gender and age of the children we serve at the Giving Bank. We also have "cards" for some folks living on the street as well as our immigrant brothers and sisters.
Please bring family gifts (wrapped and tagged) and/ or individual "angel" gifts (unwrapped) to the Giving Bank by December 13
Help wrap and organize the hundreds of donated gifts the Giving Bank will distribute to their client families.  Wrappers needed throughout the month. Please call for more info.
For more information about the "Adopt- A- Family" or "Angel Card" program and to volunteer at the Giving Bank, please contact: Marlene Moore  626-403-6140 or e-mail marlenemoore@holyfamily.org
---
Advent Taize Prayer Service (7 pm event start time)

Come experience, and help others experience, this beautiful and deeply meditative prayer.

Holy Family's St. Joseph Center, 1524 Fremont Ave., 91030
Set up & cooking* – 3:00-5:00pm for pre-Taize meal
*Volunteers to plan & cook the light dinner are especially welcome!* (We can reimburse for food costs.)
Clean up – 9:15-10:15 pm
Attire – casual

For more information and to RSVP, please contact Marisa Moonilal, mmoonilal@holyfamily.org

---

 Saturday, December 14, 4:00 to 8:00 pm

Advent Concert and Tamale Dinner

We need folks to set-out, serve and put away our traditional Advent Concert Tamale Dinner.  And then, head over to the church to enjoy the wonderful Christmas music.

4:00 pm – set-up crew of at least 4 people
5:30 pm to 7:00 pm – need crew of 5 people to help serve
7:00 pm to 8:00 pm – need cleaning crew

For more information and to volunteer, please contact: Mary at mschimmoller@holyfamily.org

---

Saturday (10-5 pm)  & Sunday (10-3pm), Dec. 14-15 & 21-22

HF Bookstore Gift Wrappers

The Bookstore can always use some good gift wrappers.  Must like to gift wrap and be able to do so neatly and carefully.  Business casual is fine.  We could use 2-3 people each day.

For more information and to volunteer, please call or e-mail Anne Yee at 626-403-6133 or anne@holyfamily.org

---

Help decorate Holy Family Church for Christmas!

You don't have to be an expert to help beautify the Church, the Hall and St. Joseph Center for the birthday of our Lord!

If you can help, please call or e-mail Dawn Ponnet at 626-403-6113 or dponnet@holyfamily.org

---

Saturday, December 21st

Christmas Breakfast and Party for Foster Teens

Help brighten the lives of 18 foster teenage girls (12-17 yo), by giving them a Christmas! Sponsored by the "Embracing Life" Ministry of Holy Family

Friday, December 20th (5 to 7 pm) help decorate the Galilee room of the Pastoral Center, 1527 Fremont Ave., 91030
Saturday, December 21st, 8:30 to 10 am – prepare breakfast, ready space for party

10 am – noon – welcome girls, serve and play games, make crafts, etc.
Noon to 1 pm – clean-up Galilee room

Monetary donations very welcome (and gift ideas for 18 teenage girls)

For more information and to volunteer, please contact Natalie Duran at embracinglife@holyfamily.org

---

Saturday, December 21st (6 pm event start time)

Christmas Posada

Help bring to life the wonderful Mexican tradition which commemorates the journey that Joseph and Mary made from Nazareth to Bethlehem in search of a safe refuge for Mary to give birth.

Holy Family's Eden Center, 1520 Fremont Ave., 91030
Set up – 3:00-6:00 pm
Lead the Rosary – 6:15 pm
Help lead posada procession – 6:45 pm
Strong gentlemen to help with pinata – around 7:45 pm?
Clean up – 9:00 pm

For more information and to RSVP, please contact Marisa Moonilal, mmoonilal@holyfamily.org

 

For information about any of the above events or any questions regarding volunteering at Holy Family, please contact Mary Schimmoller, Director of Volunteers,  at 626-403-6113 mschimmoller@holyfamily.org