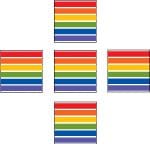 Mission Statement
The Holy Family LGBT Ministry provides a safe, welcoming and supportive environment for gays and lesbians, as well as the parents of gays and lesbians, to be heard and to celebrate their love and acceptance in the Catholic Church.
Purpose
The purpose of this Ministry is two-fold:
1.  To provide weekly group meetings for members of the gay and lesbian community, as well as their parents to come together and discuss issues relating to their faith and their sexuality in a confidential, nurturing environment. To facilitate this goal films, guest speakers, review of scientific articles and religious updates are regularly provided.
2.  To reach out to other Catholic parishes and offer them assistance in forming their own gay and lesbian support groups.  This is accomplished in two ways:
a)  Provide our bulletin announcement for their parish bulletins as a first step in their own ministry.
b)  Dr. Taylor, facilitator, attends parish counsel meetings at other parishes to encourage them to begin formulating their own gay and lesbian ministries.
Meetings
Meetings are facilitated by Dr. Elizabeth Taylor, a licensed psychologist and parishioner who specializes in faith issues as well as gay and lesbian issues, and co-facilitated by Michael Ternes. The meetings are free of cost and there is no on-going commitment to attend.
Contact
For further information please contact:
Elizabeth S. Taylor, Ph.D.
626.792.1103