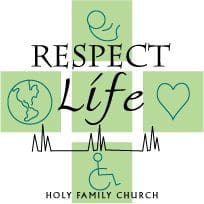 October is Respect Life Month! What are we trying to achieve? A dialogue, a revelation of thinking, an affirmation of peace and non-violence, and a value for life, respecting life at all levels, from womb to tomb.
2017 Themes
October 1: Pro-Life
October 8: Households of Faith – Parish Fair!
October 15: End of Life
October 22: Immigration
October 29: Homelessness: Shower of Hope
Events
40 Days For Life – September 27
Parish Fair – October 7 & 8
Prayers For Children – October 15
Fair Trade Fair and Food Tasting – October 29
Cropwalk – October 29
Life Rosary – October 17
Caring With Faith – October 24
Giving Bank Christmas Adopt-A-Family – November 1
Giving Bank Turkey Collection – November 11-19
Creator God, from whom we drew our first breath of life, give us a new and abiding awareness of the sanctity of your creation. May we never forget to be thankful for the wonder of life, and may we regard all living beings on our fragile earth as precious in your sight. We make our prayer in the name of your son, Jesus Christ, one God with you and the Holy Spirit forever. Amen.