Mission Statement
Holy Family Pastoral Care ministers to the elderly and sick members of the community with dignity and respect, offering compassionate care and encouraging a sense of belonging and connection to the Body of Christ through Eucharist and the people of God.
About Pastoral Care
Pastoral Care brings Church to people. It brings a sense of connection and belonging to the elderly and sick, allowing them to make a meaningful contribution to society. Over 70 volunteer Eucharistic Ministers  are assigned to the home-bound and hospitalized who are interested in having regular visitors. In many cases, strong personal ties develop and the volunteer becomes an integral part of the person's support system – interacting with family and caregivers, running errands and providing transportation to the store, the hair salon, the pharmacy and to medical appointments. Senior citizens desire and cherish trusted companions who consistently visit and care about them.
Catholic Charities
It is with great joy that we inform you that Bill Chapman, Jane Jackson and Suzy Tanazi were acknowledged for their time, their service, and their love for our Parish Community. They were celebrated at The Catholic Charities of Los Angeles (the San Gabriel Region) and it was the 32nd Annual VOLUNTEER Recognition Dinner in May with Bishop David O'Connell. It was a beautiful and special evening to celebrate and thank them for all they do for us at Holy Family. As Bishop Dave said," in this year of mercy- the mercy of Christ seen in those who have poured out time and treasure in the San Gabriel Region…we honor those among us who have answered the call- who have given to those in need from their very selves, as Christ has."
---
The Kensington Sierra Madre, An Assisted Living Residence Presents:
You Are Too Young To Be Old
How to live a healthy life and avoid dementia
Speaker – Dr. Mike Neskovie
Thursday, August 10, 2017
6:30 P.M. – 8:00 P.M.
The Kensington
245 West Sierra Madre blvd., Sierra Madre, CA 91024
626-355-5700
Please RSVP via email to SSciurba@KensingtonSL.com
or by calling 626-355-5700
Dr. Neskovie is a family physician serving our community for the last 29 years. He is a board certified family physician and geriatrician trained at the University of Illinois Chicago and at our UCLA medical school. He said that he wanted to be a family physician at age 3, and now after practicing medicine for fully 40 years, he said that he will never retire and that he wants to practice medicine until he's age 100. Dr. Neskovie wrote recently book: Family Doctor – From a Yugolavian Physician to an American MD, and he will share with you all he  learned during his long clinical practice, and he will teach you how to prevent Dementia.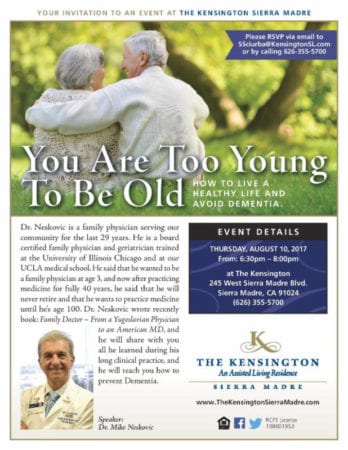 ---
Huntington Hospital Presents:
Free Health Counseling and Screenings
by a registered nurse
Personal health guidance
Hypertension (high blood pressure) screening
Diabetes (high blood sugar) risk assessment and screening
Medical and social services referrals
Health promotion literature and resources
Please contact : Community Outreach – 626.397.3376
---
The blessings of Ash Wednesday, 2016




Prayer For Later Years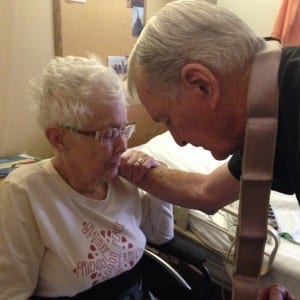 "All Gracious God, you have given me all I am and have, and now I give it all back to You to stand under Your will alone. In a special way I give You these later years of my life. I am one of those called by You into old age, a call not given to all, not given to Jesus, not given to most in our world today. I humbly ask You, grace me deeply in each aspect of that struggle. As my physical eyesight weakens, may the eyes of my faith strengthen that I may see you and Your Love in everything. As my hearing fails may the ears of my heart be more attentive to the whisper of Your gentle voice. As my legs weaken and walking becomes more difficult may I walk more truly in Your paths, knowing all the while that I am held in the embrace of Your Love. As my mind becomes less alert and memory fades may I remain peaceful in you, aware that with You there is no need for thought or word. You ask simply that I be there with You. And should sickness overtake me and I be confined to bed, may I know myself as one with Your Son as he offers his life for the salvation of the world. Finally as my heart slows a little after the work of the years may it expand in love for You and all people. May it rest secure and grateful in Your loving Heart until I am lost in You completely and forever. Amen". Prayer adapted by Ministry of the Arts with permission of the author, Sr. Moya Hanlen, FCNSC (Australia). Art by Mary Southard, CSJ. (Note that the man in the foreground is Thomas Berry.)
What We Do 
W
e take an inter-generational approach, stemming from the idea that "friendship is ageless." Small groups of grade school students regularly visit local facilities. They participate in art programs and interact with the elderly. Students journal about the special relationships and experiences they share with their aging friends who happily pass down stories of their life wisdom with unconditional love. We coordinate hospital visits by students and volunteers,
and send cards on behalf of the community. The lesson in this approach is that it is not in receiving, but in giving that we find the greatest joy. Here, we find the true meaning of Eucharist – gifts are reborn connecting the young and elderly.Pastoral Care offers seminars for senior citizens and their families throughout the year to discuss topics of importance, such as  health and nutrition seminars and support groups. We want to recognize and cultivate the experiences of the elderly to discover and identify areas of concern for them.The Director of Pastoral Care welcomes inquiries from anyone interested in serving in this ministry, as a Eucharistic Minister.
Monthly Mass Schedule

Prospect Manor: 1st Wednesday at 2:00 p.m.
The Elderly and Sick in our Community
To notify us of someone in the parish who is elderly or sick, please follow these procedures:Call the Pastoral Center Monday – Sunday if the person needs to be visited by a priest.You will be asked a few important questions by the staff  person  answering your call, as a form must be filled out. Hospital? Home? Communion? Person's home address and phone? Parishioner or not? Elderly? Name on intercessions?Please ask the staff person to notify Mary Ternan.
Volunteer Ministry Opportunities
Please contact Mary Ternan or Haeya Kim if you are interested in volunteering for our ministry.
Click the following link for details of purpose of being Eucharistic Minister for Pastoral Care, any requirements, amount of time required, when you can participate, length of commitment, and training required.
Eucharistic Minister for Pastoral Care
Spirituality In Motion – Inter generational Art Class
Dedication of Our Lady of Guadalupe- Art work created by our 5th Graders and our seniors- 2-9-2015.We are so honored and blessed to be able to interact with the youth of Holy Family School. We experience many "God Moments" that are such a gift to our Pastoral Care Ministry. We interact weekly with the 5th Grade class to have an inter generational art class with Annie Helm. This is special to witness…bringing children and seniors together in respect, friendship and love. The 6th grade class hosts our Parish Senior Christmas Brunch. They are so helpful and so respectful to our seniors at this festive holiday event.In 7th Grade, we have our Hospitality Ministry. We are privileged to work weekly with the parents and students at the Giving Bank to provide healthy morning snacks for clients and volunteers.In 8th Grade, we bring the students to visit the home-bound. They make personalized cards and we have a  prayer and Eucharist service. Thank you to our Principal, our 5th, 6th, 7th and 8th grade teachers and the students, for their love, support and compassion for these beautiful groups of people that we serve in our Parish community.
Caring With Faith 
The Catholic Perspective on End of Life Decisions.Caring With Faith is a bi-annual seminar for all adults dealing with aging parents, grandparents and one's own aging process. Take time to reflect and pray over tough decisions about end of life issues. Our Catholic faith gives us the strength to look honestly at all experiences of God's creation. Illness and death are part of these experiences. We believe that if we take time to prayerfully prepare for these events in our lives and in the lives of those we love, we will be more peaceful and able to respond in a way that celebrates the gift of life given to us by our loving God. Our Holy Family Mission Statement suggests that we connect our faith with life. The purpose of this evening is to help begin a conversation about these very important issues.
Contact:
Mary Ternan
Director of Pastoral Care
(626) 403-6115
mary@holyfamily.org
Haeya Kim
Assistant to the Director of Pastoral Care
(626) 403-6115
hkim@holyfamily.org
Interesting articles and videos you don't want to miss :
94 year old Olga Kotelko winning track and field medals.