First Communions at Holy Family will not take place until the first weeks of May. However, because Easter is very late this
year and we have shoppers from many other parishes, there will be a very compressed season for this sacrament. That means that
re-ordering out-of-stock items close to the actual event will probably not be possible. We have First Communion/Confirmation catalogs available so you can peruse items now. Some of the items in the catalog are in
stock, but whatever is not in stock can be ordered now for gift-giving in May. We urge you to shop early for First Communion gifts for the best selection.
We have a good selection of frames, rosaries, boxes, jewelry, books, bibles and many other appropriate gifts for this very special occasion.
Because medals of a child's Saint's name are very popular, we also suggest ordering early to make sure the items arrive in time.
silver, gold-filled and 14 KT gold.Valentines Day is just around the corner! Get what you need for your sweetie (or yourself) at the Holy Family Bookstore. #holyfamilysp #holyfamilybookstore
One of our favorite poets, Mary Oliver, has passed away. Come and see our Featured Author wall at the Holy Family Bookstore. "Whoever you are, no matter how lonely,
Fair Trade Scarves in a variety of designs, colors and shapes. Our Fair Trade scarf wall is full of many beautiful items. January 13, 2019 only all scarves are 10% off the already low price!
#
holyfamilybookstore
After Christmas Sale at the Holy Family Bookstore! Don't miss this great opportunity for wonderful buys!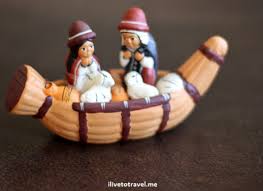 Twelve Days of Christmas at the Holy Family Bookstore! This exquisite limited edition giclee print by John August Swanson, "The Shepherds", is a perfect art creation for this season. A framed copy of the print is available for purchase in the Bookstore. It can also be purchased unframed. #Holyfamilybookstore
Twelve Days of Christmas at the Holy Family Bookstore! Come in and see our exceptional selection of Della Robbias. They make a perfect gift for someone you love (or even yourself!)  Scroll down to see all of the Christmas items! Visit our webpage for more bookstore info.   #Holyfamilybookstore