Mission Statement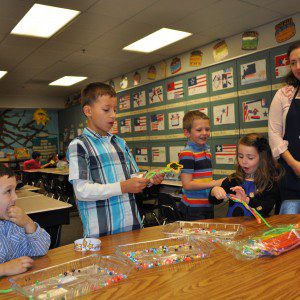 Sunday Preschool provides preschool and kindergarten age children with a religious program and spiritual environment that will nurture their Catholic faith. We will foster a sense of community among the children and their parents to support and educate them in the creation of a healthy family life.
About Sunday Preschool
Sunday Preschool is a cooperative preschool experience for 3, 4,  5 & 6 year olds. Classes meet weekly during the 9:30 a.m. Mass on most Sundays from September through May. The curriculum is developmentally appropriate, designed to introduce preschoolers to God and their faith community. The children are also introduced to our Christian community through special donations to the Giving Bank and other activities.
Contact
(626) 403-6112
sundaypreschool@holyfamily.org
Early Spanish Language Immersion
Holy Family Sunday Preschool will host a multi-age Spanish Immersion class. This class will run concurrently with the other Sunday Preschool classes, during the 9:30 Mass, at no additional charge! Our curriculum will be identical to the other classes; only it will be fully Early Spanish Language Immersion, including religious lesson, crafts and music.
Parent Requirements
All parents who will be teachers, room parents, parent helpers (at least one parent from each family acts as room parent a few times throughout the year), as well as those who will volunteer at any parish function involving minors, e.g. Parish Fair, graduation service, MUST complete a Safeguard the Children training AND Live-Scan fingerprinting. Opportunities to complete these requirements are ongoing.
Safeguard the Children
Please visit the website: http://www.virtus.org for upcoming training sessions. Attendees need to pre-register online at http://www.virtusonline.org. Click on "Registration" on the left hand side. Our organization is  "Los Angeles – San Gabriel Region (Archdiocese)." Please note that there is more than one Holy Family parish.  The class is called "Protecting God's Children for Adults."
Live-Scan fingerprinting: To find locations to complete your Live-Scan fingerprints, please check the website at www.archdiocese.la/about/hr/index.php or see the Sunday Bulletin.
For additional information or questions regarding Safeguard the Children trainings or Live-Scan fingerprinting please contact Joan Vienna at (213) 637-7227 or jvienna@la-archdiocese.org.
Downloads- 2017-2018 Sunday Preschool Application
[google-drive-embed url="https://drive.google.com/a/hfknights.org/file/d/0BxUSJMpz5sDuV3BPNEp1VGJ6alk/preview?usp=drivesdk" title="2017-2018-HFSP-Registration-Form.pdf" icon="https://drive-thirdparty.googleusercontent.com/16/type/application/pdf" width="100%" height="400″ style="embed"]
2017-2018 Sunday Preschool Calendar
Sunday Date
October 1st, 2017
October 8th, 2017- No class
October 15th, 2017
October 22nd, 2017
October 29th, 2017
November 5th,2017
November 12th, 2017
November 19th, 2017
November 26th, 2017- No class
December 3rd, 2017
December 10th, 2017
December 17th, 2017- No class
December 24th, 2017- No class
December 31st, 2018- No class
January 7th, 2018
January 14th, 2018- No class
January 21st, 2018
January 28th, 2018
February 4th, 2018
February 11th, 2018
February 18th, 2018- No class
February 25th, 2018- No class
March 4th, 2018
March 11th, 2018
March 18th, 2018
March 25th, 2018
April 1st, 2018- No class
April 8th, 2018
April 15th, 2018
April 22nd, 2018
April 29th, 2018
 May 6th, 2018
Contact Information:
sundaypreschool@holyfamily.org
2017-2018 Sunday Preschool Board of Directors
Director of Administration: Open
AD of Administration: Karina Leoning
Director of Curriculum: Onica Cole
AD of Curriculum:  Karla Haynes
Treasurer: Bridget Pudi
Director of Early Spanish Language and Immersion: Arlene Samore-Sanchez
Assistant Director of Early Spanish Language and Immersion: Vanessa Alvarado
Director of Music: Karey De Leon
Prayer Service Chairs: Open
Fair Chairs: Open
Director of Communications: Open
Art Director: Open
Assistant Art Director: Stephanie Tang
Library Director: Open
Emergency Management Director: Paul Ripple