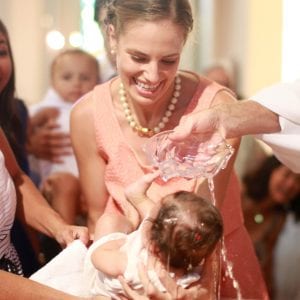 The rite of baptism for infants begins with the parents asking the church to baptize their child. The bishop, priest, or deacon, in turn, makes the sign of the cross on the child and invites the parents and godparents to do the same. A lector, or the priest or deacon, then reads a passage from Scripture. Following the reading, the priest or deacon anoints the child on the forehead, lips, throat and chest with holy oil. The anointing is to protect the child from spiritual harm.
Everyone present at the baptism is invited to make a profession of faith and reject evil. The parents and godparents make this profession on behalf of the child and promise to provide for the child's religious formation.
The family is invited near the baptismal font. The celebrant (bishop, priest or deacon) blesses the water. Usually the parent holds the child over the baptismal water font as the celebrant says, "[Child's name] I baptize you in the name of the Father, and of the Son, and of the Holy Spirit." All present respond "Amen." At the threefold prayer, the celebrant three times pours water over the child's forehead. The ritual of immersion or washing helps us understand that our sins are buried and washed away as we die with Jesus, and we are filled with divine light and life as we rise from immersion in the water or are cleaned by the pouring.
Following the immersion, the celebrant (priest or deacon) anoints the newly baptized with the sacred chrism (a perfumed oil), so that united with God's people, the child may remain forever as a member of Christ, who is priest, prophet and king.
After the anointing with chrism the child is given a white garment, a symbol that the child is clothed in Christ's protective love. A lit candle is given to the child's family to remind the child and all of us that as baptized people, we are to be lights for our world.
For more information or to schedule a Baptism at Holy Family, please call the Pastoral Center at 626.799.8908.
Downloadable forms: