Mission Statement
Trinity Ministry seeks to help Holy Family Church become a loving, spiritual home for young adults and young families.
We are single, engaged, married, divorced, or widowed and in our 20's, 30's, and 40's. We are young professionals, parents,  graduate students, single parents, artists, and workers. We represent many cultures and socioeconomic groups.
We empower one another through spiritual, communal and leadership formation as we help the parish become a community of beloved disciples reaching out to those in need.

Our regular programs include monthly masses that are young-adult friendly, followed by "The After Mass" (see below). Other quarterly or yearly events provide opportunities for fellowship, service, or spiritual growth. Here are some upcoming events.
YOUNG-ADULT FRIENDLY MASS,
EVERY 2ND SUNDAY
@ 5:30 p.m.
THE AFTER-MASS (Engaging activities that build community & faith after the 5:30 p.m. mass every 2nd Sunday):
November 12th
December 10th
January 14th
February 11th
March 11th
April 8th
May 13th
June 10th
CONNECTING BEYOND MASS (Creative experiences of fellowship, service, and prayer):
Saturday, December 16 PM – Las Posadas at Holy Family – Join Trinity as we host one of the nine posadas offered by young adults in the San Gabriel Region.  See our save the date flyer below for more information.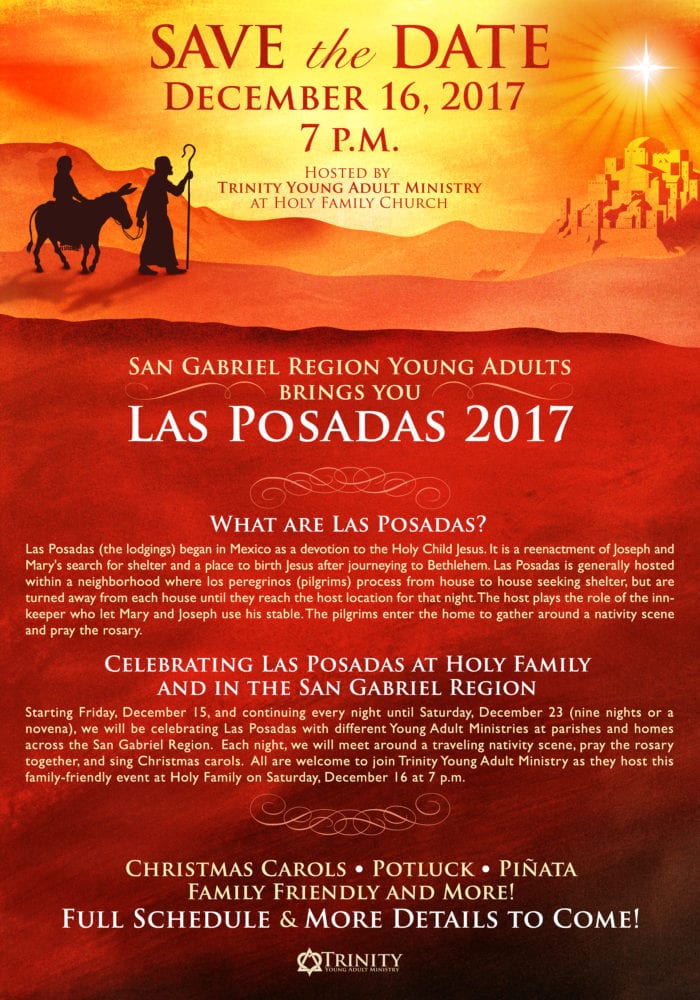 Anytime — Contact Marisa below if you are interested in a faith sharing group.
CONNECTING BEYOND HOLY FAMILY (Other ways to grow in faith and fellowship with the Los Angeles young adult community):
LA Archdiocese Young Adult Ministry: Check out what's being offered on the archdiocesan level, including service opportunities and special events.
Christus Ministries: An Ignatian-based ministry that helps bridge young adults and the church through a variety of events and services (retreats, faith sharing, leadership formation, service, etc.).
Contact Information
Please contact Marisa Moonilal (Young Adult Ministry Coordinator) at yam@holyfamily.org or (626) 403-6149 for more information or to get connected!