Mission and Vision
Trinity Ministry seeks to help Holy Family Church provide a loving, spiritual home for young adults and young families.
We are single, engaged, married, divorced, or widowed and in our 20's, 30's, and 40's.  We are young professionals, parents, graduate students, single parents, artists, and workers.
We cultivate a safe place for everyone to be truly themselves, to connect genuinely through Christ-centered fellowship, and to grow fully by serving others.  We empower one another through spiritual, communal, and leadership formation as we help the parish fulfill its mission to be "a welcoming, Eucharistic community of disciples of Jesus Christ, connecting faith with life and reaching out to those in need."
Our regular programs include monthly masses that are young-adult friendly, followed by "2nd Sunday's" (see below).  Other monthly, quarterly, or yearly events provide opportunities for fellowship, service, spiritual growth, and leadership formation.
Below are some upcoming opportunities.  We hope you can join us!
Marisa Moonilal – Young Adult Ministry Coordinator
Office: 
Holy Family Eden Center
1520 Fremont Ave
            South Pasadena, CA 91030
Email:  
yam@holyfamily.org
Phone: 
626-403-6149

---
2019 SALT Nominations
The following Trinity members have been nominated by their peers for election to the next SALT (Servants As Leaders Team).  Nominees have until Monday, July 15th, to accept their nomination after prayerful consideration.  Congratulations to all of our nominees!  Our elections gathering will then take place Thursday, July 18th, and follow our SALT Nominations & Elections Process.
Erin Anderson

Erin's presence in the Holy Family bookstore allows her to have built-in outreach to the community.

She is committed to Trinity and also has had a dedicated heart with a faith-filled perspective in parish service for a number of years already, including as a member of the Trinity Spirituality Committee for the past year.

Erin is often the first to come and last to leave when helping with Trinity events, demonstrating commitment and generosity in giving her time, energy, and gifts.

Erin Conley

Erin has demonstrated a desire to connect with others that could help bring the community together and welcome new members.

She has a clear passion for her faith and desire to grow.

Erin has excellent communication skills, public presence, and engagement with the wider community in her work with California teachers.

Luke Delgado

As a member of the Trinity Task Force that helped envision and launch the ministry and SALT member from 2016-2017, Luke would bring an important historical perspective to the next SALT.

He is an active and committed member of the parish, frequently volunteering especially with the Giving Bank.

Luke has gifts in analyzing data and situations with a critical lens to foresee possible pitfalls, as well as opportunities.

Diana Hanger & Vianney Troung

As a young, newly married couple, Diana and Vianney would bring in the important perspective of married couples to Trinity visioning and planning.

They have each demonstrated a consistent desire and willingness to serve with Trinity in their help with various events over the past year.

Diana and Vianney are both gifted teachers with key administrative skills.

In their volunteering, Diana and Vianney have each shown a strong passion for service and justice.

Joe Manahan 

Joe has served on SALT since 2016 and has demonstrated clear dedication and passion for being a servant leader with Trinity.

He has a heart for young adults in the Catholic Church, as well as strong gifts in hospitality, creativity, and outreach.

Joe is an integrated member of the Holy Family community, serving on the board for Lector Ministry, as well as forming connections throughout the parish.
---
Calendar of Upcoming Events
---
"Second Sunday's"
Engaging activities that build community & faith, plus…
YOUNG-ADULT FRIENDLY MASS @ 5:30 PM
every second Sunday of the month
July 14 – "How can a busy person like me build a relationship with God?"
August 11 – Trinity Bowling Night!
September 8 – Taize prayer service
October 13 – Trinity at the Holy Family Fair! (Meet in the beer garden after the 4:30 pm Mass for food & fellowship.)
November 10 – TBD
December 8 – Advent Taize prayer service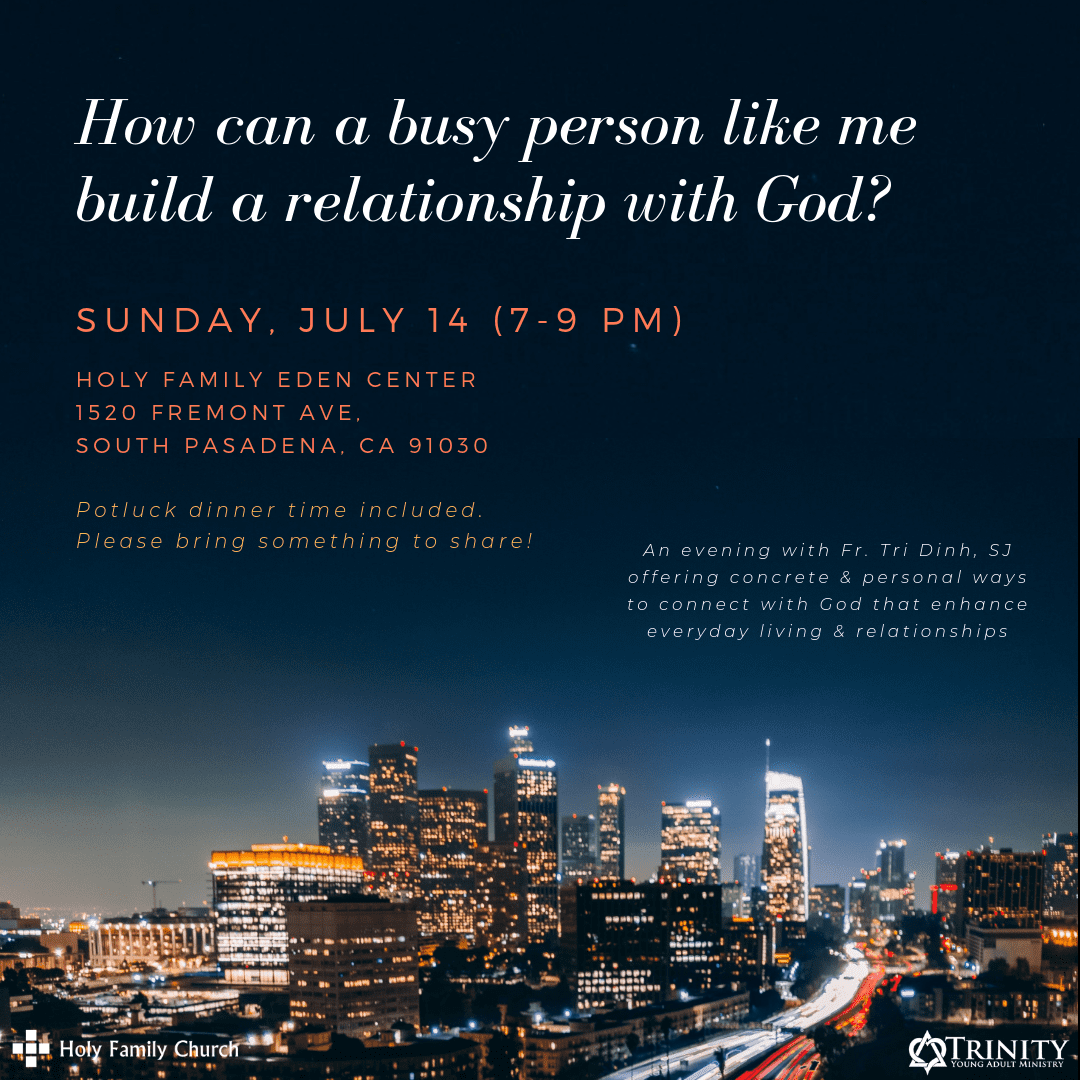 Stay tuned for more information about each night as the date approaches!
---
OTHER FELLOWSHIP OPPORTUNITIES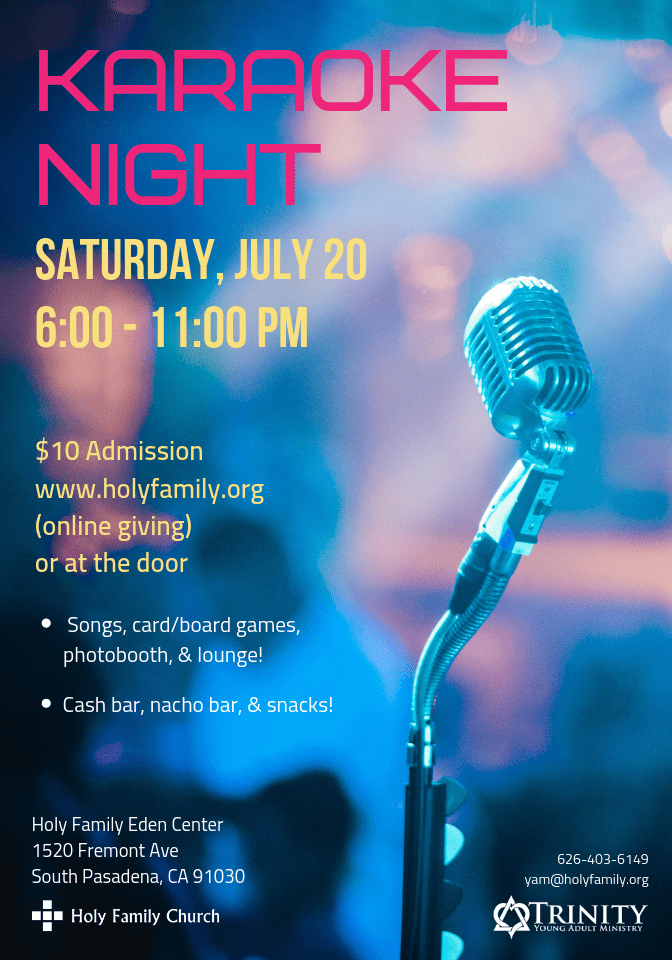 Check back soon!  For other events we might be attending together, be sure to check out our Facebook page, Instagram, or sign up for our monthly e-newsletter by emailing us at yam@holyfamily.org.
Have an idea for a hangout?  Always wanted to do that cool thing in L.A. but wanted a group to do it with?  Great!  You plan and organize the event.  We'll help promote and attend!  Just email Marisa to share your idea and get the ball rolling.
Please contact us if you're interested in joining our Social Committee to help select and organize fellowship opportunities. 
---
SPIRITUAL GROWTH OPPORTUNITIES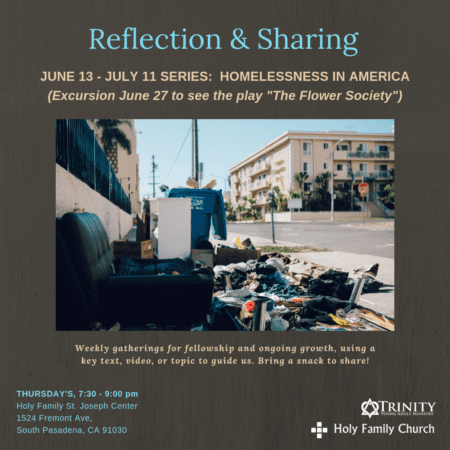 NO gathering on July 4th! 🙂
Get your tickets for "The Flower Society" HERE.
____________________________________________________________________________
Small Faith Sharing Groups
Would you like to journey with others more consistently and deeply as you grow in faith?  
Please contact us if you're interested in joining our Service Committee to help select and organize service opportunities.
---
LEADERSHIP OPPORTUNITIES
The church needs your gifts and skills! If you are interested in being a lector, a Trinity committee member or co-chair, or serving with Trinity in other ways (food team, environment, one-time event leader, mentoring, etc.), please sign up HERE!  For more information about what's involved in being a Trinity committee member or co-chair, please see our UPDATED "2018 Committees" document.  In addition, active Trinity members are invited to discern joining our SALT (Servants as Leaders Team).  This group of 6-8 people serves as a discernment, visioning, and executive board that tries to continually listen to the needs and desires of the community and God's invitations for the ministry, as well as help form and support other leaders. 
---
CONNECTING BEYOND HOLY FAMILY
Other ways to grow in faith & fellowship with the young adult community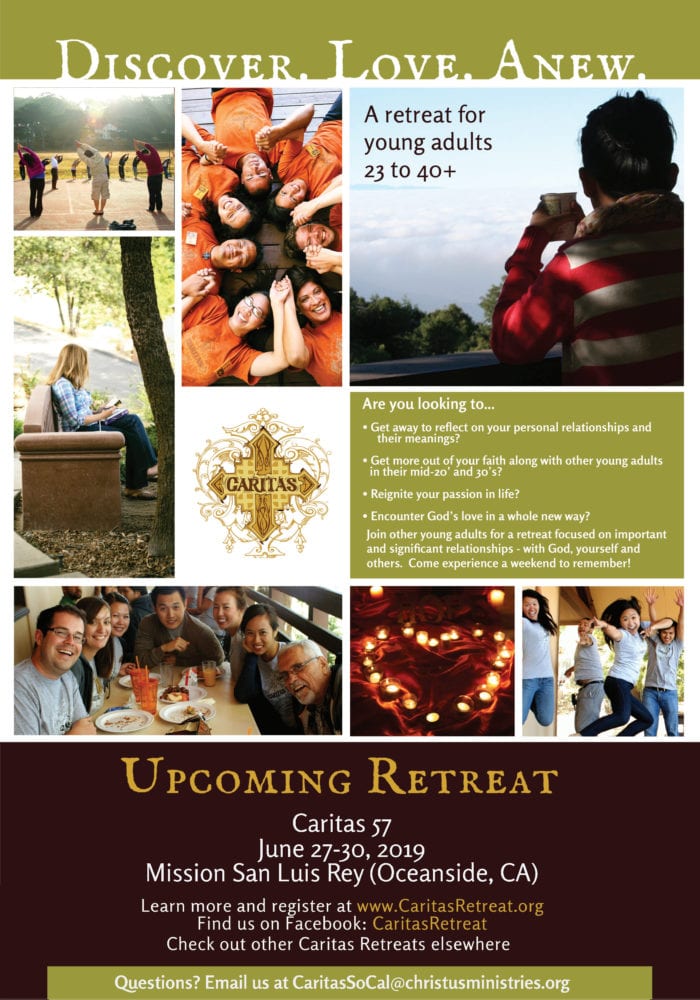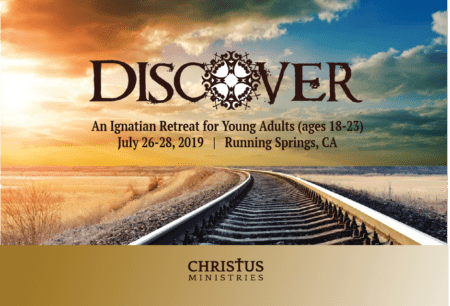 Caritas is a retreat experience that has helped over 1,700 (including many in Trinity!) explore God's love and voice in their lives through relationships with those around them.  This Catholic retreat, grounded on Ignatian spirituality, will be guided by Fr. Tri M. Dinh, SJ, a number of Jesuits, and lay ministers of Christus Ministries. It is open to all.  For more information and to register, visit the retreat web page.
Christus Ministries: An Ignatian-based ministry that helps bridge young adults and the church through a variety of events and services (retreats, faith sharing, leadership formation, service, etc.).
LA Archdiocese Young Adult Ministry: Check out what's being offered on the archdiocesan level, including service opportunities and special events.
San Gabriel Region Young Adult Ministry: There are lots of opportunities offered throughout the region!  See what else is going on with other parishes, ministries, and groups.