Mission and Vision
Trinity Ministry seeks to help Holy Family Church provide a loving, spiritual home for young adults and young families.
We are single, engaged, married, divorced, or widowed and in our 20's, 30's, and 40's.  We are young professionals, parents, graduate students, single parents, artists, and workers.
We cultivate a safe place for everyone to be truly themselves, to connect genuinely through Christ-centered fellowship, and to grow fully by serving others.  We empower one another through spiritual, communal, and leadership formation as we help the parish fulfill its mission to be "a welcoming, Eucharistic community of disciples of Jesus Christ, connecting faith with life and reaching out to those in need."
Our regular programs include monthly masses that are young-adult friendly, followed by "After Mass" (see below).  Other monthly, quarterly, or yearly events provide opportunities for fellowship, service, spiritual growth, and leadership formation.
Below are some upcoming opportunities.  We hope you can join us!
Marisa Moonilal – Young Adult Ministry Coordinator
Office: 1520 Fremont Ave (Holy Family Eden Center)
            South Pasadena, CA 91030
Email:
yam@holyfamily.org
Phone: 626-403-6129
Calendar of Upcoming Events
---
YOUNG-ADULT FRIENDLY MASS EVERY 2nd SUNDAY @ 5:30 PM and…
"AFTER MASS" (6:45 to 9:00 pm)
Engaging activities that build community & faith
January 13 – Dinner social at Blaze pizza! (see flyer below)
February 10
March 10
April 14 – (Palm Sunday)
May 12 – (Mother's Day – NO AFTER MASS)
June 9 – (Pentecost)
July 14
August 11
September 8
October 13 – Trinity at the Holy Family Fair! (Meet in the beer garden after the 4:30 pm Mass for food & fellowship.)
November 10
December 8 – Advent Taize prayer service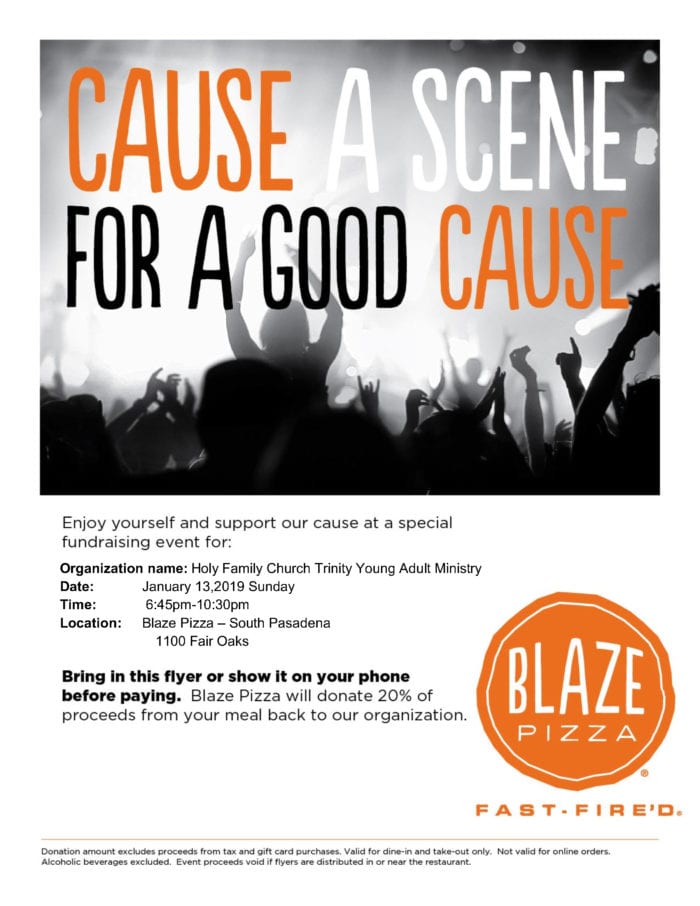 Stay tuned for more information about each night as the date approaches!
---
CONNECTING BEYOND MASS
Upcoming experiences of community, spiritual growth, service, & leadership formation
OTHER FELLOWSHIP OPPORTUNITIES
Check back soon!
Please contact us if you're interested in joining our Social Committee to help select and organize fellowship opportunities.
____________________________________________________________________________
SPIRITUAL GROWTH OPPORTUNITIES
Join Trinity young adults at the parish Adult Bible Study.  See details below.
Look for the Trinity placard at one of the tables to join any young adults attending each night!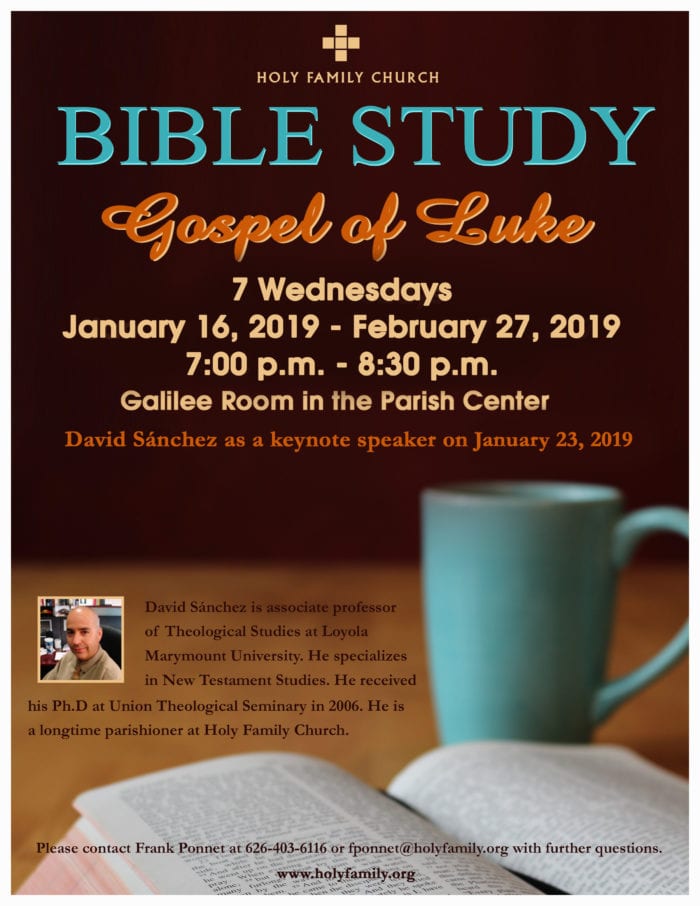 ____________________________________________________________________________
Small Faith Sharing Groups
Would you like to journey with others more consistently and deeply as you grow in faith?  
SERVICE OPPORTUNITIES
Check back soon!
Please contact us if you're interested in joining our Service Committee to help select and organize service opportunities.
LEADERSHIP OPPORTUNITIES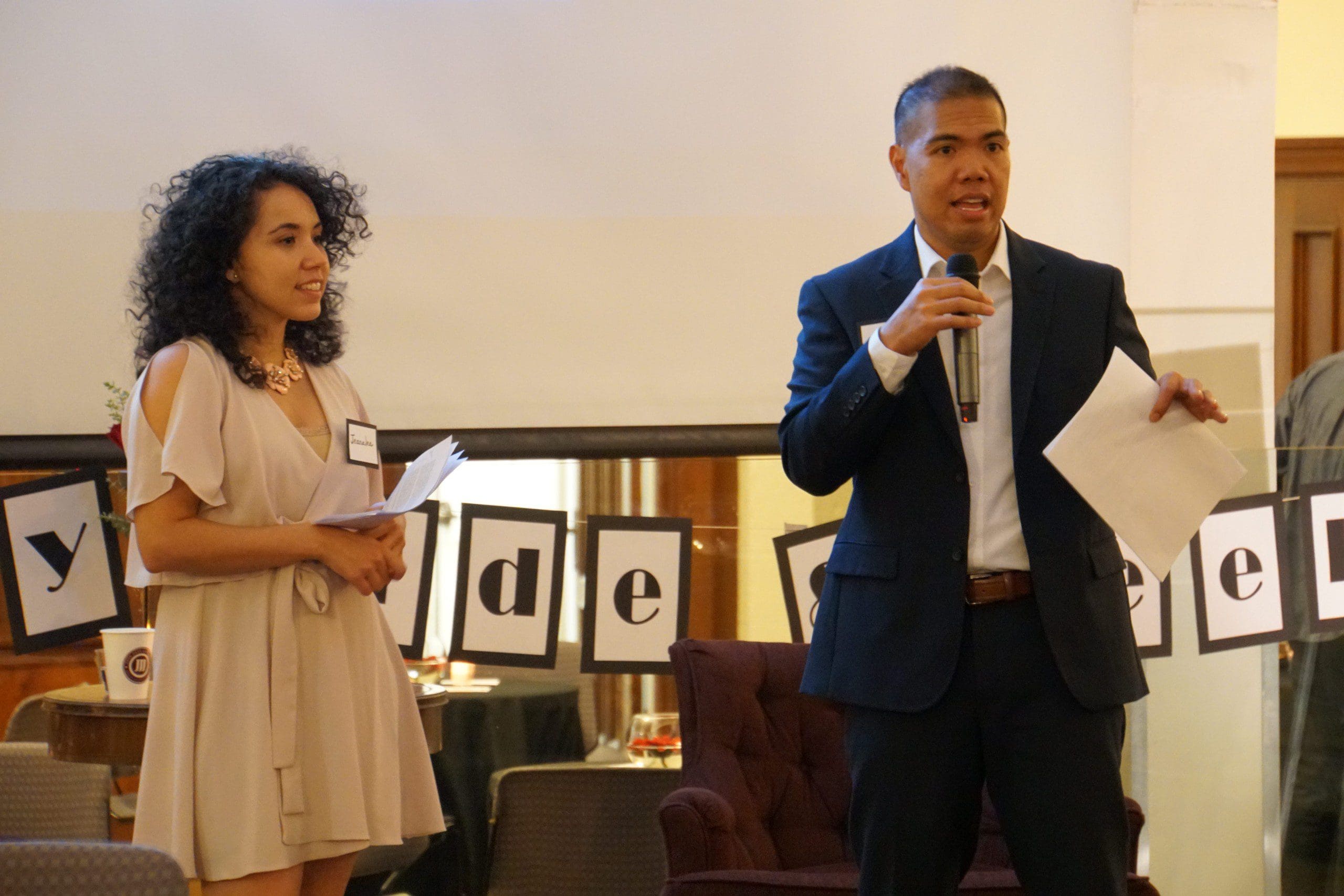 LEADING WITH TRINITY
The church needs your gifts and skills! If you are interested in being a lector, a Trinity committee member or co-chair, or serving with Trinity in other ways (food team, environment, one-time event leader, mentoring, etc.), please sign up HERE!  For more information about what's involved in being a Trinity committee member or co-chair, please see our UPDATED "2018 Committees" document.  In addition, Trinity members who have been active in the past 3-5 months are invited to discern joining our 2019 SALT (Servants as Leaders Team).  This group of 6-8 people serves as a discernment, visioning, and executive board that tries to continually listen to the needs and desires of the community and God's invitations for the ministry, as well as help form and support other leaders.  If you are interested in discerning running for SALT for the 2019-2021 term, please email Marisa at yam@holyfamily.org.
---
CONNECTING BEYOND HOLY FAMILY
Other ways to grow in faith & fellowship with the young adult community
Caritas is a retreat experience that has helped over 1,700 (including many in Trinity!) explore God's love and voice in their lives through relationships with those around them.  This Catholic retreat, grounded on Ignatian spirituality, will be guided by Fr. Tri M. Dinh, SJ, a number of Jesuits, and lay ministers of Christus Ministries. It is open to all.  For more information and to register, visit the retreat webpage.  Registration is now open!
Christus Ministries: An Ignatian-based ministry that helps bridge young adults and the church through a variety of events and services (retreats, faith sharing, leadership formation, service, etc.).
LA Archdiocese Young Adult Ministry: Check out what's being offered on the archdiocesan level, including service opportunities and special events.
San Gabriel Region Young Adult Ministry: There are lots of opportunities offered throughout the region!  See what else is going on with other parishes, ministries, and groups.