Monsignor Clement Connolly
Born in Limerick, Ireland, the middle child in a family of two boys and three girls Msgr. Connolly was raised in Ireland and later, England.  He attended Seminary and graduated from St. Patrick's College in Thurles, Ireland. Ordained to the priesthood in 1964 he was missioned to the Archdiocese of Los Angeles where he served in parish ministry until 1968. Monsignor was Secretary for Cardinal James Francis McIntyre from 1968-1970.
Subsequently he was assigned as secretary to Cardinal Timothy Manning until Manning's retirement in 1985.  From 1984 until June 2009 Monsignor Connolly was the pastor of Holy Family Church in South Pasadena. He officially retired in July of 2010 and is now Spiritual Director of Holy Family Parish. His hobbies include golf, reading and travel.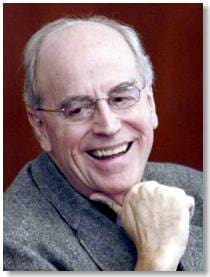 Father James L. Heft, S.M.
A priest in the Society of Mary, Fr. Heft received his undergraduate degree in education from the University of Dayton and earned a master's degree and Ph.D. in Historical Theology from the University of Toronto. He returned to Dayton in 1977, where he served for nearly 30 years as instructor and chairperson of Religious Studies, professor of Faith and Culture, provost and chancellor.
A renowned educator and leader in Catholic higher education, Fr. Heft has published and edited numerous books and authored more than 150 articles and book chapters. He has served on the United States Bishops' Committee on Education and chaired the Board of Directors of the Association of Catholic Colleges and Universities (ACCU). In 2006, he established the Institute for Advanced Catholic Studies at USC where he serves as president.
Father Heft has written and edited 11 books and written more than 150 articles and book chapters. In 2011, Father James L. Heft, S.M. was honored with the Theodore Hesburgh Award for long and distinguished service to Catholic Higher Education.
Fr. Denis J. Maher
Every August since 2003 Holy Family Church has had the pleasure of a visit from Father Denis Maher, who has been a good friend of Msgr. Connolly since Seminary.  Fr. Maher has been the pastor of St. Paul's Roman Catholic Church in Hyde, Manchester, England in the Diocese of Shrewsbury since 1996.
Father Denis, as he likes to be known, was born in Tipperary, Ireland in 1940 and spent his early years living on a farm. He credits his early education at the Christian Brothers School in Thurles as the beginning of his aspiration to the priesthood. He was ordained in Thurles Cathedral on June 14th, 1964.
He served as pastor at various parishes before his appointment to St. Paul's. Father Denis also serves as chaplain to the police in Manchester, and shares duties as Chaplain of Tameside General Hospital. He especially enjoys his visits to the schools and celebrating Masses for the pupils.
Fr. Chris Ponnet
Fr. Chris Ponnet was born in southern California in 1957.  He grew up with seven brothers and sister in Temple City and attended St. Luke's grammar school. He entered the seminary at Our Lady Queen and Angels Minor Seminary then continued on to St. John's Seminary College in Camarillo. Fr. Chris received a Masters in Divinity and a Masters in Theology. On December 3, 1983, he was ordained for the Archdiocese of Los Angeles.  
Fr. Chris served as an associate pastor in Canoga Park, Pomona and Claremont prior to his current appointment in 1994 as Pastor of St. Camillus. Certified with the Interfaith Association of Professional Chaplains he serves as Director of the Department of Pastoral Interfaith Chaplains at LACUSC Medical Center and has been on the LAC USC Medical Center Ethics Committee for over a dozen years.
He enjoys exercising and family genealogy research.  He has served on the Archdiocesan Priest Council and hosts Pax Christi LA, and the Gay and Lesbian Ministry of Archdiocese at St. Camillus. Fr. Chris has spoken nationally and locally on HIV/AIDS, Death Penalty and Social Justice.
Linking the lives of his patients to Justice and Peace issues is fulfilling to him and fuels his preaching and activism—the prophetic call of all people of faith.
Fr. Tri Dinh
Fr. Tri (or "Cha Tri") serves as Co-Director of Christus Ministries. He lives in Culver City and hangs out with Jesuit Novices (those in their first years of training) when he's not traveling to consult parishes, conduct retreats, conferences, and workshops on Ignatian spirituality, leadership, and community formation. He doesn't love the outdoors that much because he only hikes Half Dome every other year—you know that big-ol rock in the middle of Yosemite. Fr. Tri is passionate about avoiding LA traffic at all cost. But he is even MORE passionate about connecting people with God, especially young adults on the fringes.
Fr. Ron Schmidt, SJ: Producer/Writer
Fr. Ron Schmidt is a Jesuit priest and award-winning international documentary filmmaker whose films include: The Labyrinth: The Testimony of Marian Kolodziej, an internationally award winning documentary, that has been in 21 film festivals, won 10 awards and is scheduled to start airing on PBS stations in April, 2013; Franz Jägerstätter: A Man of Conscience, a short documentary that won the Redemptive Storytelling Award; In Spite of Darkness, a film on the annual non-denominational Auschwitz Retreat; as well as numerous other documentaries. Two of his films were awarded Silver Telly's for best in their categories and all three films have secured international distribution.
Schmidt was producer of the Catholic Academy for Communication Arts Professionals annual Gabriel Awards in Los Angeles and he has co-produced the Film Showcase at the L.A. Religious Education Congress. After receiving the Silver Telly Awards, he was selected to be a judge for the Telly Awards. He is a script reader for the Humanitas Prize, as well as a chair of the Gabriel Awards Documentary Jury. He gives film seminars and film retreats. Schmidt, along with his director son, Jason, is partnered in December 2 Productions to develop and produce documentaries.
Ron comes from a long line of filmmakers – his father is the distinguished film editor Arthur P. Schmidt, best known for editing such classic films as Sunset Boulevard, Some Like It Hot, Sabrina and Sayonara. His brother is Arthur Schmidt, Academy Award winning Film Editor, for Forrest Gump and Who Framed Roger Rabbit?