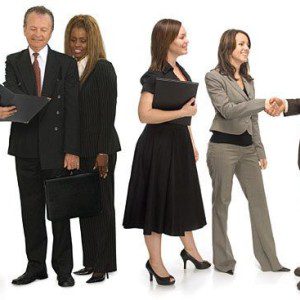 Did you know that Holy Family has a Career Networking Group?
If you are out of work, or if you might be in a position to help someone find a job, then please consider joining the next Career Networking Group meeting on Tuesday, May 22nd.
If you're in this position then no one needs to tell you that looking for a job and being out of work are incredibly stressful.  But it is helpful to know that you are not alone. Grief is a natural response to loss, and that includes the loss of a job.
Our jobs give us structure, purpose, and meaning. That's why job loss and unemployment is one of the most stressful things you can experience.
Beyond the loss of income, losing a job also comes with other major losses, some of which may be even more difficult to face:
Loss of your professional identity
Loss of self-esteem and self-confidence
Loss of your daily routine
Loss of purposeful activity
Loss of your work-based social network
Loss of your sense of security
About the Career Networking Group
Holy Family Career Networking Group is composed of a group of parishioners who have recently transitioned into new positions linking with those who are currently in the job search process or  considering a job change. The group focuses on networking, resumes, and the interview process. They seek success strategies and empower one another's efforts."We focus on job search skills, networking, resume reviews and interviewing techniques."Please call for more information or to schedule and individual counseling appointment.  All are welcome!Please contact Bruce McIntosh by phone 626-201-6717 or e-mail: bigmac5948@yahoo.com