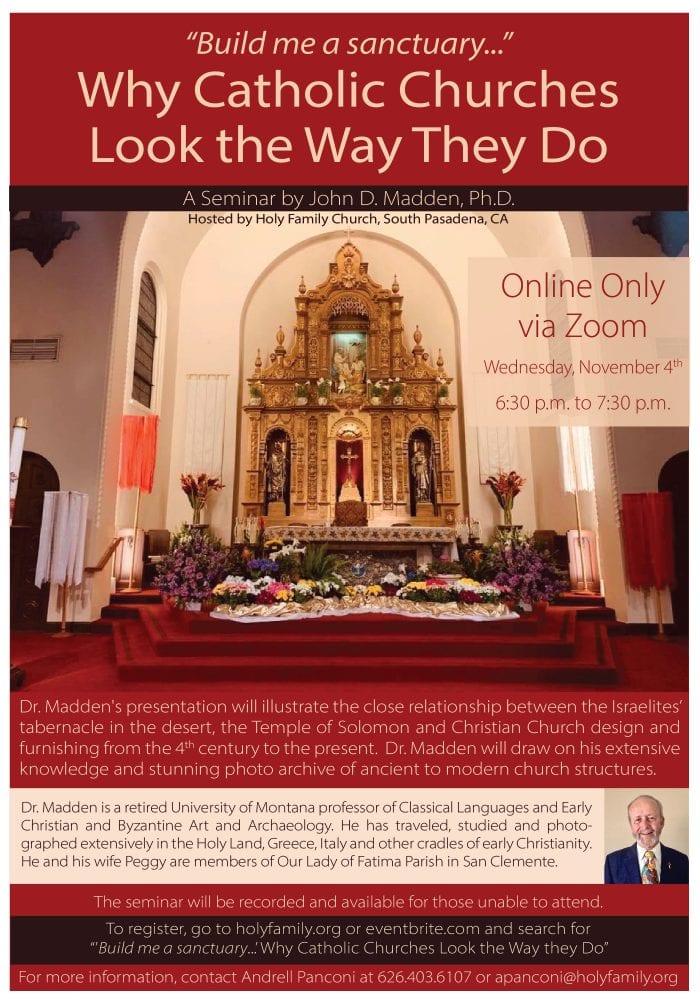 Online only via Zoom
Wednesday, November 4th at 6:30 p.m.
A Seminar by John D. Madden, Ph.D.
Dr. Madden's presentation will illustrate the close relationship between the Israelites' tabernacle in the desert, the Temple of Solomon and Christian Church design and furnishing from the 4th century to the present. Dr. Madden will draw on his extensive knowledge and stunning photo archive of ancient to modern church structures.
---
Dr. John Madden, Ph.D. Bio.
Dr. Madden is a retired University of Montana professor of Classical Languages and Early Christian and Byzantine Art and Archaeology. He has traveled, studied and photographed extensively in the Holy Land, Greece, Italy and other cradles of early Christianity. He and his wife Peggy are members of Our Lady of Fatima Parish in San Clemente.
The seminar will be recorded and available for those unable to attend.
To access the meeting via Zoom, click:
https://us02web.zoom.us/j/2018282910?pwd=TUVBelFhMG96S2l5LzZsM1NBK2xOUT09
Meeting ID: 201 828 2910
Passcode: 457521
To register, click here!
For more information, contact Andrell Panconi at 626.403.6107 or apanconi@holyfamily.org