The Holy Family Fall Festival is Back!
Saturday, October 15th, 4:00 p.m. – 9:00 p.m.
Sunday, October 16th, 10:30 a.m. – 7:00 p.m.


We are so excited to invite you back to our Fall Festival 2022! Come with the whole family for a weekend full of fun with delicious food, lively music, games, rides and more!
Now is your chance to participate by volunteering, doing what you love and helping us make the Fall Festival all that it can be! Grab a friend, family member or come make new friends and join the fun! This is a wonderful way to meet fellow parishioners while you share your talents and gifts. We need everyone to help in some way! Two hour volunteer shifts are available for food or game booths. Click here to sign up!
Raffle: Buy raffle tickets for yourself or sell them to family, friends and colleagues!  There's a top cash prize of $5,000! Did you know that by purchasing your raffle tickets you are supporting the good work that our ministries do? It's a win win! Look for your tickets in the mail or pick them up in the Pastoral Center and remember to drop the ticket stubs off there, too!
Help with Set-Up: Set up will begin on Friday, October 14th. Click here to sign up!
Donate Prizes or Sweet Treats: Our Sweet Shack and Cake Walk could really use candy and store bought baked goods like cakes, cookies and cupcakes, yum! We also need bottled water, game prizes (stickers, accessories and small toys). Please drop off donations at the Pastoral Center. Please drop off baked goods the week October 10th.
Look for raffle tickets and wristbands on SALE Sunday mornings after Mass before the Fall Festival!
Underwriters: We are very grateful for parishioners and local business benefactors. Please contact Theresa Shaw: theresa@holyfamily.org
For more information or to volunteer, please contact Shannon Porter at 626.403.6130 or sporter@holyfamily.org.
To donate to the Fall Festival CLICK HERE!
See you all at our Fall Festival!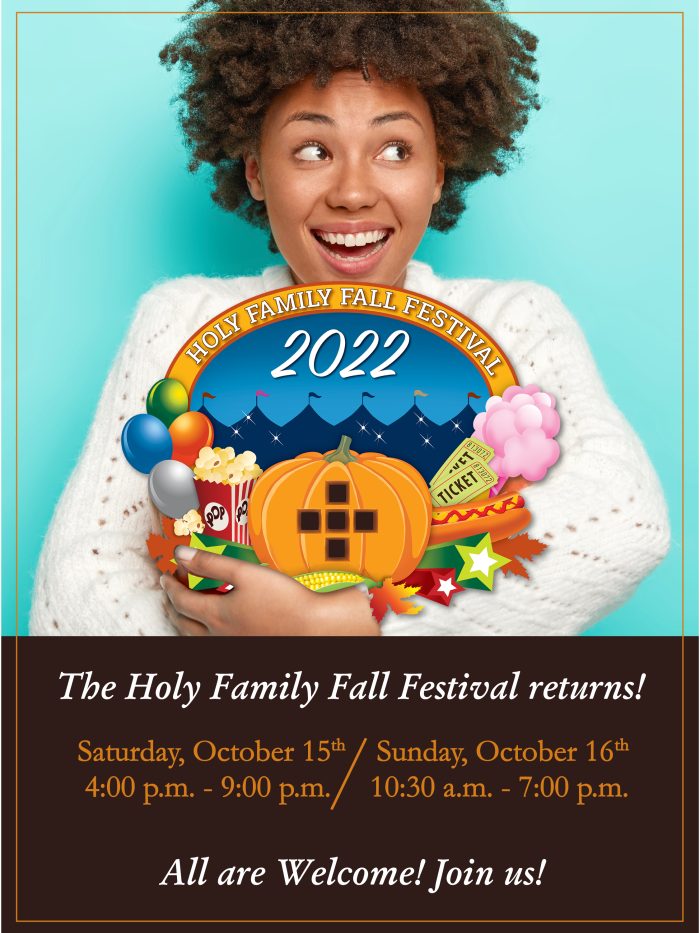 One of Holy Family's most fun weekends is BACK! Join us!