October 14 & 15, 2023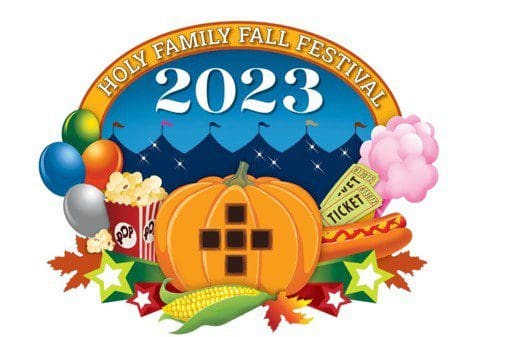 Join us at the
Holy Family Fall Festival!
October 14th, 4pm – 9pm
& October 15th, 10:30am – 7pm
We need everyone to help with the Holy Family Fall Festival in some way! This is a great way to help your parish and make new friends!
Volunteer for a Booth
LINK TO SIGN UP: https://www.signupgenius.com/go/fallfestival2023#/
Raffle
By purchasing your raffle tickets, you are supporting the excellent work that our ministries do. And you could win $5,000! You can drop the ticket stubs off any time; look for yours in the mail!
Bake a Cake/Sweet Treat
Our Sweet Shack and Cake Walk need baked goods (cakes, cookies, and cupcakes)! We also need kid's prizes and decorations. Please sign up here: https://www.signupgenius.com/go/fallfestival2023#/
Donate
Bingo prizes are needed! We can use gift certificates and gifts worth $10/more. Please drop off at the Pastoral Center.
Purchase T-shirts, raffle tickets, and wristbands. Look for them on sale after Mass before the Fall Festival.
Fair T-shirts These super cute shirts in all sizes are incredibly soft and have a fresh new design! They will be available at the Fall Festival and you can also stop by the Pastoral Center Mon-Fri to purchase.
Underwriters
We are very grateful for parishioners and local business benefactors. You make our Fall festival possible!
Contact Theresa Shaw: theresa@holyfamily.org.
Sponsorship Link: https://www.eservicepayments.com/cgi-
bin/Vanco_ver3.vps?appver3=Fi1giPL8kwX_Oe1AO50jRnwVKElwVj-
mJcgbKNih22XHO3iVYxvvxhHjRfLOeq662EvVVAEjqawDomKT1pbouVDOsG-bzK8nNI7A0kedQqo=
For more information, please contact Shannon Porter at 626.403.6130 or sporter@holyfamily.org.