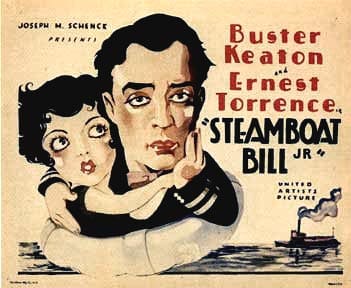 Saturday, August 4, 6:30 p.m.!
What could be better than a summer evening picnic with friends and family?  One with Buster Keaton!  Please bring the family and join us for a delightful outdoor screening of Keaton's hilarious silent film "Steamboat Bill, Jr." This very special screening will be shown on film by classic cinema projectionist David Slaughter with live music by acclaimed silent accompanist and big band leader, Dean Mora!  Doors open for picnics at 6:30 pm, and the pre-show festivities and screening start at 8 pm. On the lovely grounds of our historic church!
Tickets may be purchased at the door (cash only):
$25 per family
or
$7 for adults
$5 for children ages 4 – 12
Free for children 3 years old and younger
All proceeds from the event will benefit the theater program of Holy Family School.
Only low chairs and blankets will be allowed in the screening area, but picnic tables will be available in the back on a first-come-first-served basis. Concessions will also be available for purchase.
Please contact Jennifer Harnsberger with any questions at jhphoto1@mac.com or 323-229-8084.