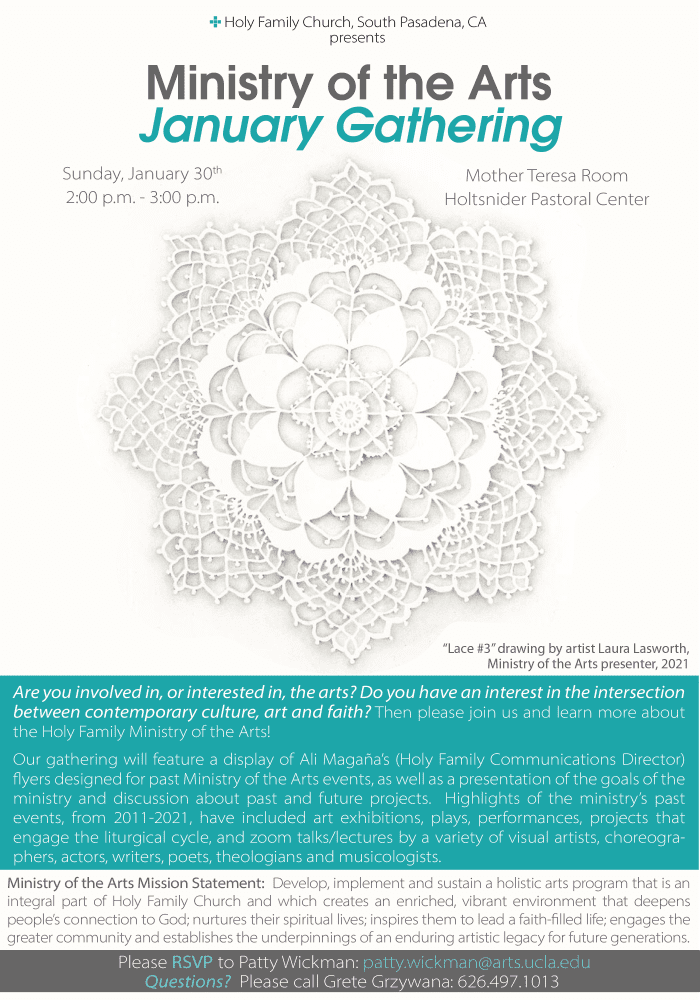 Are you involved in, or interested in, the arts? Do you have an interest in the intersection between contemporary culture, art and faith? Then please join us and learn more about the Holy Family Ministry of the Arts!
Our gathering will feature a display of Ali Magaña's (Holy Family Communications Director) flyers designed for past Ministry of the Arts events, as well as a presentation of the goals of the ministry and discussion about past and future projects. Highlights of the ministry's past events, from 2011-2021, have included art exhibitions, plays, performances, projects that engage the liturgical cycle, and zoom talks/lectures by a variety of visual artists, choreographers, actors, writers, poets, theologians and musicologists.
Ministry of the Arts Mission Statement: Develop, implement and sustain a holistic arts program that is an integral part of Holy Family Church and which creates an enriched, vibrant environment that deepens people's connection to God; nurtures their spiritual lives; inspires them to lead a faith-filled life; engages the greater community and establishes the underpinnings of an enduring artistic legacy for future generations.
Please RSVP to Patty Wickman: patty.wickman@arts.ucla.edu
Questions? Please call Grete Grzywana: 626.497.1013