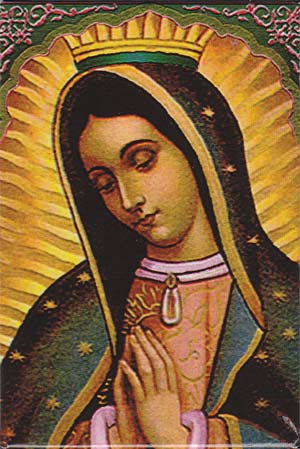 You are invited! Witness with us on Thursday, December 11th at 5:30 p.m. in the Gathering Area of the church as Our Lady of Guadalupe joins our Holy Family community. On her feast day eve, we will share a special evening of celebration in her honor, presided over by Archbishop Gomez. Celebrate with our entire community this once in a lifetime event, as we welcome our beautiful new Our Lady of Guadalupe sacred artwork home!
The evening will include:
Unveiling: The new sacred painting of Our Lady of Guadalupe, a blessing of the piece by Archbishop Gomez, as well as a procession.
Mass: Celebrated by Bishop Sartoris in Our Lady of Guadalupe's honor.
Dance: Traditional Atzec dancers, Interpretive dance, as well as Mariachi music.
Delicious Food and Drink: Join us in the hall for feast day activities: festive drinks, multicultural food and fellowship!
Attire:
As a sign of our unity and diversity, you are encouraged to wear traditional dress of any origin, especially children.
Share Your Story With Us
Holy Family is pleased to announce that we will soon receive a custom commissioned piece of artwork by renowned sacred and cultural artist Lalo Garcia. As we welcome this piece into our Church, we are hoping to have you share your personal stories as to what Our Lady means to you and what is her presence in your life. We will be featuring various stories in the upcoming months. Please email bulletin@holyfamily.org if you are interested in sharing your Our Lady of Guadalupe story with us. Thank you!