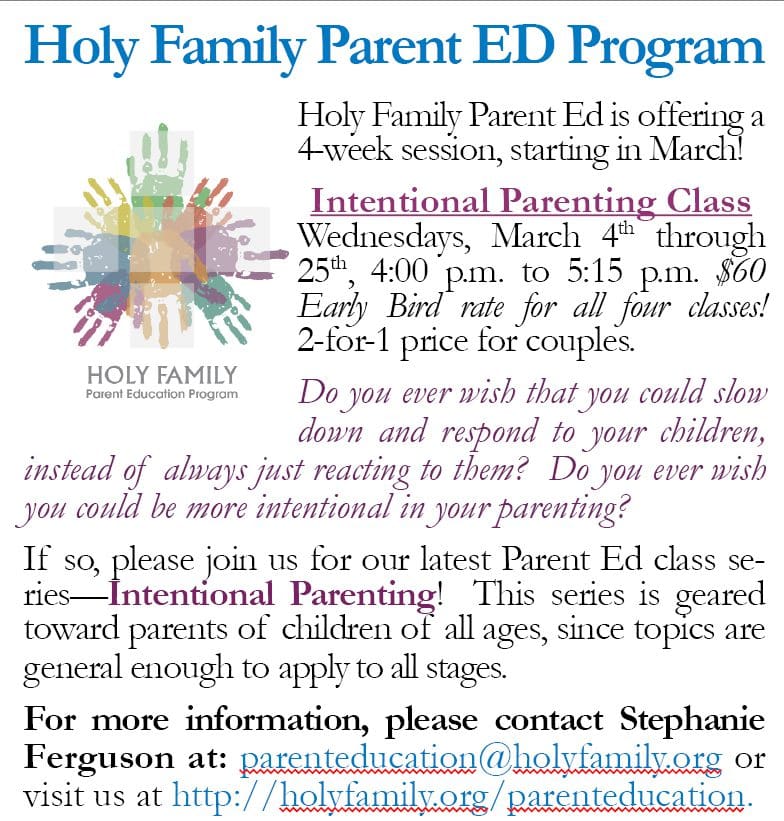 Holy Family's Parent Education Program
We live in a world that is often described as increasingly "connected."  Through email, texts, and online social media, we can stay in constant contact with our coworkers, family, and friends, both locally and throughout the world.  However, what these connections possess in speed, they can often lack in depth, and this can create profound feelings of isolation – and this can be especially true in the arena of parenting.  Our online communities unfortunately cannot take the place of a warm, non-competitive, non-judgmental, and in-person social support system.  Here at Holy Family, we are hoping to address this void with our new Parent Education Ministry.
Our newly formed Parent Education Ministry is the work of several parishioners and Holy Family staff who saw a need to support our families with children, and our primary focus is on the concept of "connection."  Holy Family would like to support connection in the lives of our families, in three key ways: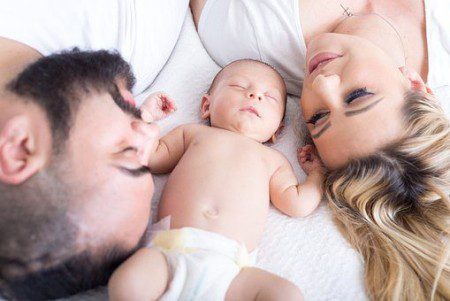 First, Connection with….Our Children: We will explore ways that we can increase our connection with our kids, beginning as babies and continuing as they become young adults.  This connection forms the basis of secure attachment, and is vital to supporting our children's developmental growth and resiliency.
Next, Connection with…Other Parents: We will foster a supportive community of fellow parents who are going through similar ages, stages, and issues, and facilitate dialogue and fellowship with each other, as well as access to the many resources in our incredible community.
Finally, Connection with…Ourselves:  We will provide opportunities for self-reflection, self-care, and self-discovery, exploring prayer, Ignatian spirituality, meditation, breath work, art, journaling, and other contemplative exercises to help us to feel centered in our otherwise busy, and sometimes overwhelming, lives
The Holy Family Parent Education Ministry does not seek to advocate a particular parenting style, or tell parents how to raise their children – parents are all experts on their own children.  Instead, this new program seeks to increase connection in all areas of families' lives, and provide parents with community support, encouragement, fellowship, opportunities for self-discovery, and hopefully for life-long friendships.  Parenting is not an easy vocation, but one that can be unbelievably transformative, and we're excited to embark on this incredibly rewarding journey with you!
Stephanie Ferguson is a Holy Family parishioner, wife, mother, attorney, and former administrative dean at the University of Southern California. Stephanie earned her bachelor's degree in Sociology, with honors and distinction, from the University of Michigan, and went on to earn her Juris Doctor from the University of Michigan Law School.  She served as Assistant Dean for Graduate Initiatives at USC in the Graduate School, supervising student support services, and has most recently enjoyed her role as a full-time mother to her two young children.  She has completed trauma-informed parenting classes at Echo Parenting & Education, and is a certified Echo Parent Educator.  Stephanie is also a member of the La Canada Presbyterian Church Parent Education Board.