Hi,
Below is our latest blog. We went to congress again this year as well as helped out at Youth Day. Youth Day is what we focus on. ( Click here to read all of Jay and Candy's Diaconate blogs!)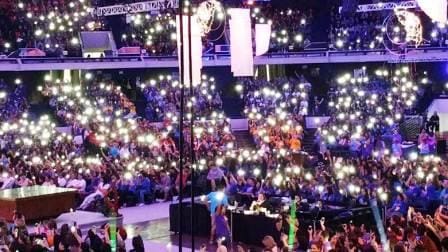 This is the second year that we have helped at Youth Day, held the Thursday prior to the opening of Religious Education Congress. This year they were able to be in the arena. Two sessions with 7,500 teens and chaperones at each one.
Each session consisted of a Mass with Archbishop Gomez and a wonderful youth choir, a keynote by Fr. Greg Boyle, and music by Jeremy & Ryan as well as talented youth from the archdiocese.
There are times when many people wonder, "what is the future of the Catholic Church?"
" Will our youth continue on in our faith?"
After seeing this year's Youth Rally, we believe the answer is "Yes!" So many youth, filled with grace and faith, singing, praying and worshiping as one.   Their enthusiasm is infectious, they wanted to be there.   They clap and dance, they raise their voices in a joy filled harmony, but more important than this , they share their faith and belief in Jesus and truly want to "Talk Jesus to Me" (Which was this year's theme).
Over seven thousand young people listening to Archbishop Gomez's homily. Over seven thousand, completely quiet as Fr. Greg spoke about his "homies."  Over seven thousand singing excitedly with Jeremy & Ryan.   The lights of thousands of phones light the arena with a glow that makes God smile.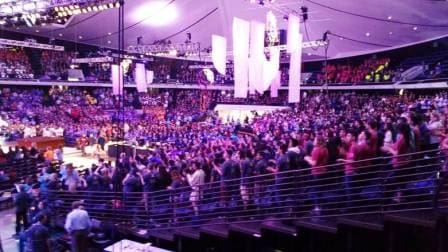 We saw fifteen thousand youth and chaperones excited about Jesus! We pray that they will bring this excitement back with them and share it with all of those in their home parishes!
If you have any questions about what we have experienced in the diaconate (aka "that deacon thing"), please ask us or send us an e-mail to gbmom_01_02@yahoo.com.
If you are interested in becoming a Deacon or a Deacon Couple for the Archdiocese of Los Angeles, please contact:
Diaconate Formation Office
Archdiocese of Los Angeles
3424 Wilshire Boulevard, 2nd Floor
Los Angeles, CA 90010-2241
213-637-7383
Candy & Jay Krueger,
Candidacy Year II, Diaconate Formation,
Holy Family Church, South Pasadena, CA