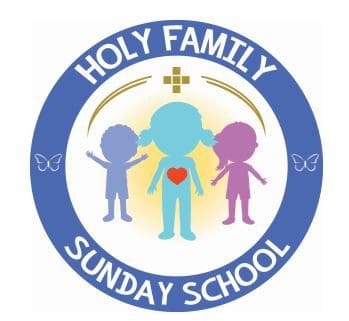 PLEASE NOTE: SUNDAY SCHOOL IS CURRENTLY ON HIATUS DUE TO THE COVID-19 PANDEMIC. WE HOPE TO OFFER CLASSES AGAIN IN 2021-2022.
Sunday School (One-year to Kinder age)
Holy Family Sunday School is a wonderful place for children to be introduced to the Catholic community. We welcome toddlers and preschoolers to play and learn together about their faith while their parents enjoy a peaceful mass in the big church. Your children will enjoy our selection of toys, listen to stories, create crafts, sing, and learn about Jesus. We meet from 9:15 a.m. to 10:30 a.m. on Sundays (see schedule below) in the basement of the Education Center. Children who are 12 months old and walking to age 6 or Kinder are welcome to join. One -year-olds who are still not walking are welcome to join us, but need to be accompanied by a parent.  Children who are in First Grade should enroll in Religious Education.
In order to effectively run the Sunday School we require at least one VIRTUS certified family member (mother, father, and/or guardian) to volunteer approximately once a month in class supervising children and helping with lessons and crafts.
VIRTUS
If you have already submitted your VIRTUS and Live Scan (fingerprint) documentation to Holy Family, you can check the dates of your certification with Patricia Plescia, Holy Family Operations Director 626.403.6106; patricia@holyfamily.org
If anyone in your family needs to be VIRTUS certified for the first time OR needs to be re-certified, please register online for VIRTUS sessions here: https://www.virtusonline.org/virtus/index.cfm
To see all of the available VIRTUS trainings in the diocese, click here https://www.virtusonline.org/virtus/reg_list.cfm?theme=0 and then scroll down to find Los Angeles – San Gabriel region.  Be sure to read the entire set of instructions, some are only open to parishioners of a particular parish, some are not in English, some are for re-certification only, etc.
FINGERPRINTING
You only need to be fingerprinted once. If you have fingerprinted documentation, please include it in your child's application. To find Live Scan locations near you, visit