Join us for Youth Ministry on Sundays
after the 5:30 pm Mass
See https://youthministry.holyfamily.org/ for schedule of dates.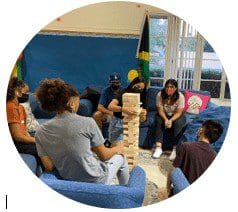 Sally Cunningham
Associate Director of Faith Formation TEL: 626-403-6148 email: scunningham@holyfamily.org website: https://youthministry.holyfamily.org/
Teen Healing Circles
Teens–please join a small group for discussion. These groups will be limited to six teens and are designed to help us heal. We will talk about how we have been affected over the last year or so, what we are feeling, and how we can support each other.
Each of us has had a different experience over the last 18 months and have been affected.
If you would like to join a small group, please remember we are here to support each other and everything said within this group remains will stay within the group. Click Here to signup.
Youth Ministry
Our Youth Ministry program is here to help you heal and renew your hope. Teens can build community and enjoy time with their peers without pressure. Please see the schedule out on our website. We meet after the 5:30 pm Mass on Sundays from 6:45 -8:00 pm.
Service Projects
Teens join us serving our neighbors once a month. We will provide Union Station with a meal for 25 people the first Thursday of each month.
Please contact Sally Cunningham for details on how you can help.