Candy and Jay Krueger
February 18, 2017 we continue our diaconate journey…at Saint Anne Church and Shrine in Santa Monica.  Today we had a guest speaker, Msgr. Craig Cox who spoke on Canon Law and Canonical Services. (Please click here to read all of our experiences of the bi-monthly  Deacon formation classes)
In the morning, Msgr. Craig discussed the most recent Cannon Code that was published in 1983. As part of the discussion was the "Rights and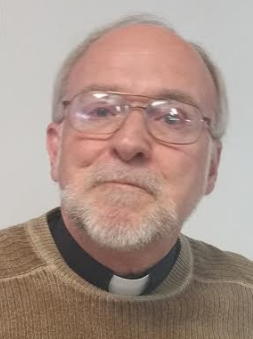 Obligations pertaining to all the "Christian Faithful", the "Lay Christian Faithful", "Specifically to Clerics", "Specified Ecclesiastical Offices" and "The Right of Church Authority to regulate and Exercise of Rights"".
In the afternoon we discussed Marriage and nullity and where in Canon Law the various aspects of nullity can be found. Msgr. Craig answered questions from the group and presented a few ideas on books which would be helpful to members of the community concerning Canon Law and certain situations that they might have questions.
The last area discussed was Canon Law as it related to the Diaconate. The "National. Directory for the Formation, Ministry and Life of Permanent Deacons in the U. S" sections 74 – 103.  The link provided gives you access to the entire document and it is an excellent resource for information on the Diaconate.
In the afternoon, we discussed our ordination and retreat. As of February 18th there are 111 days till ordination.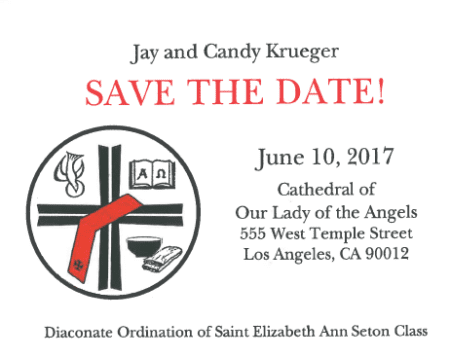 Please remember those in the St. Elizabeth Ann Seton Diaconate class in your prayers we enter into our last few months of formation. 
And our Diaconate Journey continues…
If you have any questions about what we have experienced in the diaconate (aka "that deacon thing"), please ask us or send us an e-mail to gbmom_01_02@yahoo.com.
If you are interested in becoming a Deacon or a Deacon Couple for the Archdiocese of Los Angeles, please contact:
Diaconate Formation Office Archdiocese of Los Angeles
3424 Wilshire Boulevard, 2nd Floor
Los Angeles, CA 90010-2241 213-637-7383
Upcoming Diaconate Information Days:
Sunday, April 23, 2017 from 2:00 to 4:00 p.m. at St. Andrew Parish School, 42 Chestnut St. Pasadena, 91103
Sunday, July 23, 2017 from 2:00 to 4:00 p.m. at St. Dominic Savio Parish, 13400 Bellflower Blvd. Bellflower, 90706
Candy & Jay Krueger, Diaconate Formation, Year V,
Holy Family Church, South Pasadena, CA