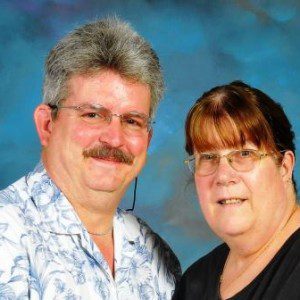 February 2014
While the focus of this week's class was lector training and the works of St. Paul, we would like to discuss an item that was just a few moments in length but had a great impact on the day.
This was the first lector training class that was held after the loss of our sister Tess. Sister Karen had put together a roster and was calling each of our names. As each of our names was called, we wondered if someone had told her about Tess' death and that even though she was no longer with us, her husband Ding is continuing his journey.
Ding's name was called. Then Tess'. Now came that awkward moment, where we let Sister know that Tess had passed away right after Thanksgiving.  Sister Karen gave her apologies as well as her condolences, but the spirit of the entire room once again centered around Ding.
The calling of someone's name who is no longer alive can sometimes take you back to the moment when you learned of their death. This can also happen when you receive a letter addressed to them, a phone call asking for them or just talking to a friend who does not know that they have died and asks you how they are doing.  That moment in time when there is a silence, each person present looking to the grieving person, a sudden rush of sympathy, a want in your mind to reach out and protect, to surround them with shelter, to do your best to keep the pain and sorrow at bay.
In each case, this was not done with malice or forethought. It happened because the individual was unaware of your loss.  The sorrow and embarrassment, that  moment when you wish you could take back the words, to never cause pain to someone you know, but it is life, there are people in our lives that we see less frequently, weather it is a colleague or a fellow student, perhaps a shirt tail relative that lives a distance away.
So, how would respond if this happened to you? If you had been the one with the loss? What would it be like if you had asked how someone was doing, only to find out that they had died six weeks ago?
In either case, you need to be understanding of the situation. "I am sorry for your loss" or "I will remember you in my prayers" may be the best response one can come up with. "I understand, you didn't know" may be difficult for you to say. You may even feel tears starting to come.   That sorrow that is still so close, still so real, comes flooding back and once again your spirit is crushed into sadness.
Grief is not something that comes and goes with ease.  There are those moments that may draw you right back to the last time you saw a person alive. It is in these times that we can feel the closeness of the one we lost.  A moment in time, especially happy ones, can ease the pain, can diminish the sorrow.  We embrace those moments, because it is when our loved ones were most happy, when we shared the gift of the Spirit and the grace of our Beloved Savior.
If you are interested in becoming a Deacon or a Deacon Couple for the Archdiocese of Los Angeles, please contact:
Diaconate Formation Office
Archdiocese of Los Angeles
3424 Wilshire Boulevard, 2nd Floor
Los Angeles, CA 90010-2241
213-637-7383​
Diaconate Information Days – Called To Be A Deacon?
Prospective applicants and their wives are invited to attend an Information Day presented by the Office of Diaconate Formation.  Here you can meet the formation staff and learn more about the formation program.
Sunday, April 13, 2014 from 2:00 p.m. to 4:00 p.m. at St. Maximilian Kolbe Parish, 5801 Kanan Rd. Westlake Village, CA 91362.
If you have any questions about the Diaconate, please ask us or send us an e-mail at wyb@wyb.com.   As we complete this calendar year's classes, we would again like to thank all of you. Thank you for your continued prayers.  Thank you for your continued support. Lastly, thank you for the occasional question on how that deacon thing is going.
Candy & Jay Krueger,
Candidacy Year I, Diaconate Formation,
Holy Family Church, South Pasadena, CA