On March 18, 2017 we met at Alemany High School. We will be at Alemany High School for our next class on the 25th of March. We spent the morning going over mandatory reporting and the Call to Orders ceremony that we would be experiencing in the afternoon.  Due to the travel plans of the Archbishop, we experienced Call to Orders during a Sunday Vigil Mass.   (Please click here to read all of our experiences of the bi-monthly  Deacon formation classes)
Call to Orders began with Jay having to write a letter to the Archbishop in his own hand in early February 2017.  The contents of the letter is as follows: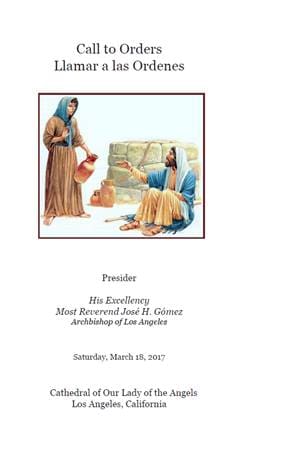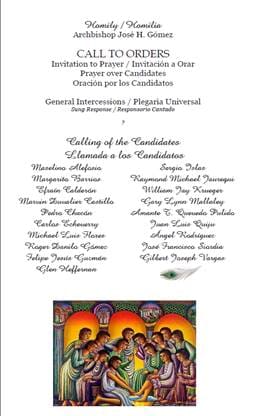 Your Excellency,
With this letter I freely and without coercion humbly submit my petition for the Sacred Order of Deacon.
I understand and accept the meaning of this and intend to devote myself permanently to the ministry of the Church. I know fully the obligations of the clerical state, particularly regarding the Liturgy of the Hours, obedience, and celibacy.
As I near the completion of the formation program, it is with prayerful discernment that I make this request to be ordained a Deacon.  I believe that God has given me the grace of a vocation to ordained ministry.
Please pray that I may be faithful to Christ and the Church all the days of my life.          Sincerely yours in Christ,
The Mass was held in a small chapel at the Cathedral. Those receiving the Call to Orders, Archbishop Gomez, members of the Diaconate formation team, and musicians were in to attend. After the General Intercessions, Jay received, as well as the other 19 members of the St. Elizabeth Ann Seton Group, the letter below from the Archbishop:
Call to Orders is the formal recognition by the Archbishop that you have completed, to date, all of the requirements in order to be ordained a Permanent Deacon.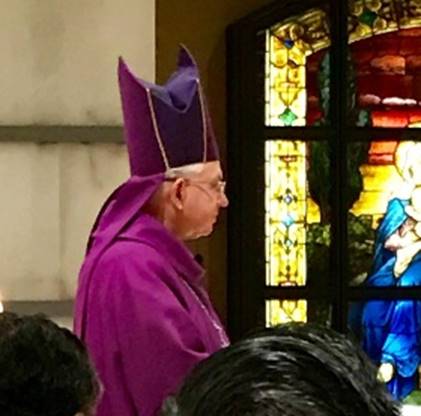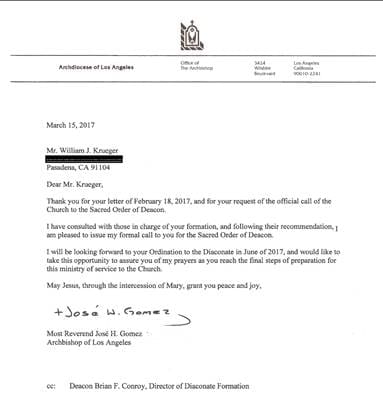 After Mass we were invited to the Archbishop's residence for a reception and dinner.
As of March 18th there are 82 days until ordination.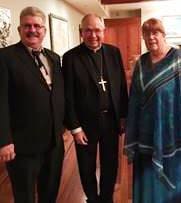 Please remember those in the St. Elizabeth Ann Seton Diaconate class in your prayers we enter into our last few months of formation.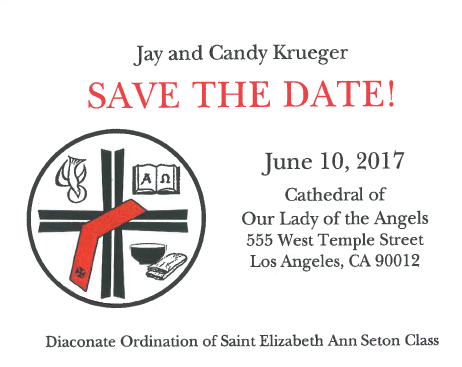 And our Diaconate Journey continues…
If you have any questions about what we have experienced in the diaconate (aka "that deacon thing"), please ask us or send us an e-mail to gbmom_01_02@yahoo.com.
If you are interested in becoming a Deacon or a Deacon Couple for the Archdiocese of Los Angeles, please contact:
Diaconate Formation Office Archdiocese of Los Angeles
3424 Wilshire Boulevard, 2nd Floor
Los Angeles, CA 90010-2241 213-637-7383
Upcoming Diaconate Information Days:
Sunday, April 23, 2017 from 2:00 to 4:00 p.m. at St. Andrew Parish School, 42 Chestnut St. Pasadena, 91103
Sunday, July 23, 2017 from 2:00 to 4:00 p.m. at St. Dominic Savio Parish, 13400 Bellflower Blvd. Bellflower,
Candy & Jay Krueger, Diaconate Formation, Year V,
Holy Family Church, South Pasadena, CA