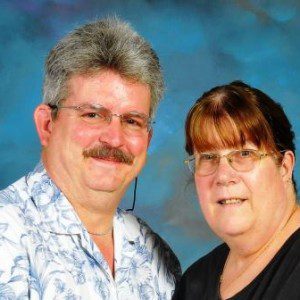 May 17, 2014 This week was our last class at Alemany High School for this year. Our three remaining classes will be in Dominquez Hills, Tujunga, and La Puente. We had a presentation on the encyclical Centessimus Annus written by Saint John Paul II as well as discussed St. Paul's letter to the Ephesians.  The most important time in class came when we prayed evening prayer.
If you have read our blog this year, you remember that we lost one of our classmates in December last year. Our sister Tess is interred at the San Fernando Mission Catholic Cemetery, right next to where we were having class, Alemany High School. Ding, Tess's husband, was the presider for evening prayer. In our previous class, it was decided that we would have evening prayer at Tess's gravesite.
Our evening prayer was a little more solemn and heartfelt than usual.  The opening hymn was sung with power and reverence. Ding's reflection on the reading was from deep inside of him. When it came time to say the Lord's Prayer, we joined hands and prayed. At the end of evening prayer we each, in turn, went up to Ding and gave him a hug and then left in teary silence.
If you are interested in becoming a Deacon or a Deacon Couple for the Archdiocese of Los Angeles, please contact:
Diaconate Formation Office
Archdiocese of Los Angeles
3424 Wilshire Boulevard, 2nd Floor
Los Angeles, CA 90010-2241
213-637-7383​
Or, Attend an information day:
Sunday, July 20, 2014 from 2:00 p.m. to 4:00 p.m. at St. Jerome Parish, 5550 Thornburn St.
Los Angeles, CA 90045
Sunday, October 26, 2014 from 2:00 p.m. to 4:00 p.m. at Incarnation Community Center, 214 West
Fairview Ave. Glendale, CA 91202
If you have any questions about the Diaconate, please ask us or send us an e-mail at wyb@wyb.com.   As we complete this calendar year's classes, we would again like to thank all of you. Thank you for your continued prayers.  Thank you for your continued support. Lastly, thank you for the occasional question on how that "deacon thing" is going.
Candy & Jay Krueger,
Candidacy Year I, Diaconate Formation,
Holy Family Church, South Pasadena, CA