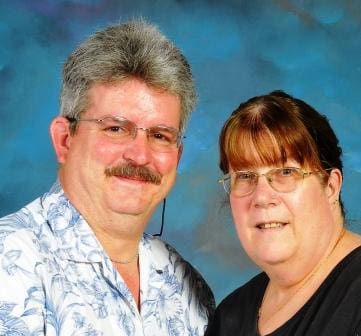 February 2014 we continue our diaconate journey…
The focus of this week's class was bereavement training, the first half of Paul's letter to the Roman's and a presentation on the encyclical Pacem in Terris or Peace on Earth. Since we and another couple presented this encyclical, we would like to discuss this.
An encyclical, as defined by catholic culture, is "A papal document treating matters related to the general welfare of the Church, sent by the Pope to the bishops.
Used more frequently in modern times to express the mind and thoughts of the Pope to the people in the Catholic Faith. Although of themselves, the encyclicals are "not infallible" documents, encyclicals may (and generally do) contain pronouncements on faith and morals that are de facto infallible because they express the ordinary teaching of the Church. In any case, the faithful are to give the papal encyclicals their interior assent and external respect as statements of the Vicar of Christ.
An encyclical epistle is like an encyclical letter but addressed to part of the Church, that is, to the bishops and faithful of a particular area. Its contents may be doctrinal, moral, or disciplinary matters of universal significance, but may also commemorate some historical event or treat of conditions in a certain country or locality."
Since 1435 there have 159 encyclicals. With the first being written by Pope Eugene IV in 1435 and the latest bring written by Pope Francis last year. Between 1846 and 1875 Pope Pius IX wrote 38 encyclicals; the most of any pope to date.
Peace on Earth was written in 1963, shortly after the Cuban Missile crisis by Pope John XXIII, the last of Pope John's eight. "Peace will be only be an empty-sounding word unless it is based on the order founded on truth, built according to justice, integrated by charity and put into practice in freedom."
Pope John also listed basic human rights. These are, "Man has the right to live. He has the right to bodily integrity and to the means necessary for the proper development of life, particularly food, clothing, shelter, medical care, rest, and, finally, the necessary social services. In consequence, he has the right to be looked after in the event of ill-health; disability stemming from his work; widowhood; old age; enforced unemployment; or whenever through no fault of his own he is deprived of the means of livelihood."
Besides these basic other rights were also listed. The second section addressed the relationship between man and state. The third established the need for equality among nations with the last section talking about the greater need for relations between nations.
There is the need, said the pope, that when conflicts arise, they "should note be resolved by recourse to arms, but rather by negotiation."
It was not found out until later that Pope John XXIII was a friend with Premier Khrushchev and through this friendship, the Cuban Missile Crisis would be solved.
We found that most encyclicals are not an easy read.  They contain many quotes from many previous encyclicals as well as church doctors, such as St. Augustine.  There are many commentaries that also exist about each encyclical and the commentaries are very helpful in one's ability to understand what is being said.
All encyclicals are available on the Vatican website in both English and Latin. Here is the link to Pacem in Terris if you would like to read it on your own.
Although this document was written over fifty years ago, it is still very relevant today.  A few weeks ago, Father John Dear, spoke at Holy Family.  As Jay listened, he realized that many of the issues that Father John was talking about as concerns today, are similar to those concerns of Pope John XXIII.
If you are interested in becoming a Deacon or a Deacon Couple for the Archdiocese of Los Angeles, please contact:
Diaconate Formation Office
Archdiocese of Los Angeles
3424 Wilshire Boulevard, 2nd Floor
Los Angeles, CA 90010-2241
213-637-7383​
Diaconate Information Days – Called To Be A Deacon?
Prospective applicants and their wives are invited to attend an Information Day presented by the Office of Diaconate Formation.  Here you can meet the formation staff and learn more about the formation program.
Sunday, April 13, 2014 from 2:00 p.m. to 4:00 p.m. at St. Maximilian Kolbe Parish, 5801 Kanan Rd. Westlake Village, CA 91362.
If you have any questions about the Diaconate, please ask us or send us an e-mail at wyb@wyb.com.   As we complete this calendar year's classes, we would again like to thank all of you. Thank you for your continued prayers.  Thank you for your continued support. Lastly, thank you for the occasional question on how that deacon thing is going.
Candy & Jay Krueger,
Candidacy Year I, Diaconate Formation,
Holy Family Church, South Pasadena, CA