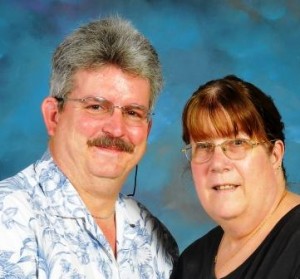 December 14, 2013
by Jay and Candy Krueger
Since our last blog entry,  we have prepared and conducted the Vigil Service for our "Diaconate- Sister" Tess.  Jay attended the funeral and we had classes on the 7th and 14th of December. The focus of this blog is  our Sister Tess' services.
Through a conference call, we prepared a rough draft of the Vigil Service for Tess as well as assign roles to various members of our Deaconate Year. The majority of our class was able to participate in Tess's Vigil. A rosary was said prior to the Vigil Service. One of our classmates was the presider and one gave a thoughtful and inspiring reflection. The service was concluded with Deacon Chris, our class facilitator from last year, blessing the body of our sister Tess. The service was beautiful and a fitting gift for Tess.
Jay attended the funeral Mass on the next day. Outside of the chapel were two picture boards showing various moments on the life of Tess and her family. The "standing-room-only" Mass was presided over by the new Pastor of their parish.  He said that he had not known Tess long, but that it was wonderful to come into a parish that was working so well. This success was due in large part to the work that Tess had done prior to his arrival. It was wonderful to hear Tess's children talk about their mother and the different experiences each one of them had through the years.
Jay stayed with the family through the interment. He gave Ding, Tess' husband,  a hug and said that he would see him at our next class.
During our next two classes, Ding continued to be showered with love by not only his classmates, but by other class and individuals in the program. Our class said that we would do whatever we can to support him through his diaconate journey. The class that is a year ahead of us came in during our class on the 14th and sang.  Then each one prayed over Ding individually.
If you are interested in becoming a Deacon or a Deacon Couple for the Archdiocese of Los Angeles, please contact:
Diaconate Formation Office
Archdiocese of Los Angeles
3424 Wilshire Boulevard, 2nd Floor
Los Angeles, CA 90010-2241
213-637-7383​
Diaconate Information Days – Called To Be A Deacon?
Prospective applicants and their wives are invited to attend an Information Day presented by the Office of Diaconate Formation.  Here you can meet the formation staff and learn more about the formation program.
Sunday, January 12, 2014 from 2:00 p.m. to 4:00 p.m. at St. John Chrysostom Parish, 546 East Florence Ave., Inglewood, CA 90301.
Sunday, April 13, 2014 from 2:00 p.m. to 4:00 p.m. at St. Maximilian Kolbe Parish, 5801 Kanan Rd. Westlake Village, CA 91362.
If you have any questions about the Diaconate, please ask us or send us an e-mail at wyb@wyb.com.   As we complete this calendar year's classes, we would again like to thank all of you. Thank you for your continued prayers.  Thank you for your continued support. Lastly, thank you for the occasional question on how that deacon thing is going.
Candy & Jay Krueger,
Candidacy Year I, Diaconate Formation,
Holy Family Church, South Pasadena, CA