Candy and Jay Krueger
On June 11, 2016 most of St. Elizabeth Ann Seton class was present to help with the ordination of thirteen men to the order of the permanent diaconate.  (Please click here to read all of our experiences of the bi-monthly  Deacon formation classes).
Here is a link to the homily that Archbishop Gomez that he made at the ceremony: .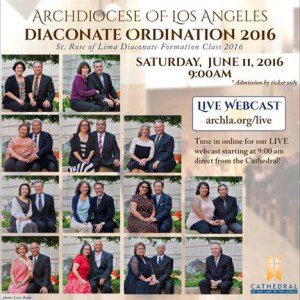 This is a link to a video summary of the ordination:  https://www.facebook.com/olacathedral/videos/10154321643656383/
This was the fifth ordination that Jay had attended and third for Candy. The last two we participated in some way.
Jay stated to some of his classmates, it felt like his fifteenth birthday. He knew that in a year he would be sixteen and able to get a driver license. The next permanent diaconate ordination that will take place in the Cathedral will be for St. Elizabeth Ann Seton class. It will be those whom we have been journeying with over the past four plus years.  The St. Elizabeth Ann Seton class was an active participants in the ceremony, Acolytes in service of the Arch Bishop, Gift Bearers, Banner Bearers, women and men of the class as well as year three who helped make this ceremony which was rich in tradition as well a glimpse into next year's ceremony.
At the end of the service the Archbishop requested all in attendance to recite a prayer, a prayer for Vocations:
Good and gracious God, You have called us through our baptism to discipleship with your son, Jesus Christ, and have sent us to bring the Good News of salvation to all people.
We pray for you to grant us more priests, deacons, religious brothers and sisters and lay ministers to build up your Church within the Archdiocese of Los Angeles.
Inspire our young men and women by the example of Saint Junipero Serra to give themselves totally to the work of Christ and his Church.
We ask this in the name of Jesus, the Lord. Amen.
We are all called to be disciples of Jesus, to do the good works begun by his love for God and for us.  When we are silent for a moment and listen, we will hear that soft gentle voice that calls to us to action, to help those who live on the margins, who have no voice, those who mourn, who are hungry, who are naked, who are incarcerated and who God calls each of us to help.  Simple actions will have life changing results, see Jesus in all you encounter, grace flow from each of us, be the hands and feet of our beloved brother Jesus Christ.
 And our Diaconate Journey continues…
If you have any questions about what we have experienced in the diaconate (aka "that deacon thing"), please ask us or send us an e-mail to gbmom_01_02@yahoo.com.
If you would like to attend a Diaconate Information day, please attend the following:
Sunday, October 23, 2016 from 2:00 to 4:00 p.m. at St. John Chrysostom Parish, 546 E. Florence Ave. Inglewood, CA 90301.
If you are interested in becoming a Deacon or a Deacon Couple for the Archdiocese of Los Angeles, please contact:
Diaconate Formation Office
Archdiocese of Los Angeles
3424 Wilshire Boulevard, 2nd Floor
Los Angeles, CA 90010-2241
213-637-7383
Candy & Jay Krueger,
Diaconate Formation, Year V,
Holy Family Church, South Pasadena, CA