Candy and Jay Krueger
On September 24, 2016 we met for our Diaconate formation class at Alemany High School in Mission Hills. Our next class will be on October 8th and will be there as well.  We also have our practicum on a Communion Service. (Please click here to read all of our experiences of the bi-monthly  Deacon formation classes)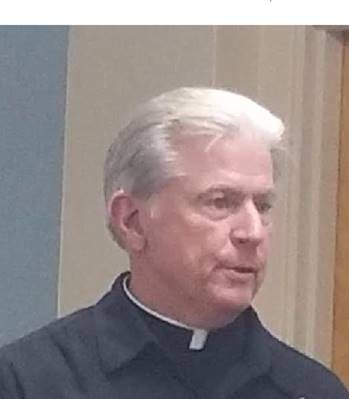 Today, our morning was spent with Father Dave Heney (pictured right), author of "Don't Tell Me What To Do!" A Catholic Understand of Modern Moral Issues.  This was one of the assigned readings that we had over the summer and the first time that we were able to hear the author of one of our assigned readings in person!
The focus of Fr Dave's talk was what happened to humanity in the Garden of Eden and how it translates to today.bbHe stated that we are created with the following:
–       Equality. That we are equal before God and before each other.
–       Freedom. That God gave each of us the power to make our own choices.
–       Goodness. God created us as good persons. We are good because God loves us.
–       Helpful. We serve and care for others.
–       Worship. Through gratitude we experience our faith which is our response to the discovery of our life and its origin in God.
We then spent the rest of the morning discussing how the virtues about relate to our current lives and how we interact with each other and our God.
And our Diaconate Journey continues…
If you have any questions about what we have experienced in the diaconate (aka "that deacon thing"), please ask us or send us an e-mail to gbmom_01_02@yahoo.com.
If you would like to attend a Diaconate Information day, please attend the following:
Sunday, October 23, 2016 from 2:00 to 4:00 p.m. at St. John Chrysostom Parish, 546 E. Florence Ave. Inglewood, CA 90301.
If you are interested in becoming a Deacon or a Deacon Couple for the Archdiocese of Los Angeles, please contact:
Diaconate Formation Office Archdiocese of Los Angeles
3424 Wilshire Boulevard, 2nd Floor
Los Angeles, CA 90010-2241
213-637-7383
Candy & Jay Krueger, Diaconate Formation, Year V,
Holy Family Church, South Pasadena, CA