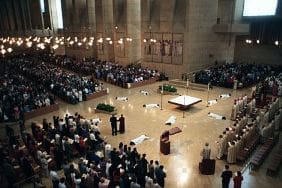 Jay Krueger shares his thoughts as he attends the diaconate ordination at Our Lady of the Angels Cathedral on June 9th.
Although the ordination was not part of formation, it was the first time I'd seen someone that I knew be ordained as a Permanent Deacon. The ceremony was well attended, even with extra chairs, people were standing.
The aspect of the ceremony that always touches me is when  the current Permanent Deacons,  with their wives next to them, are the first to enter the Cathedral. As those who are about to be ordained enter, their wives are next to them as well. These, soon to be Deacons, start the service sitting with their families.
After their Ordination, each new Deacon is presented with a copy of the Gospels. He then, in turn, presents it to his wife.
Those who are serving for this ceremony are in their fourth year of Diaconate Formation and have received the rite of Acolyte.
The ceremony lasts around 3 hours. The newly ordained Deacons are put right to work assisting with the remaining portions of the Mass.
I was able to attend this ceremony with two other couples from the Aspirancy class, which made it all the more special.
We  have only one class remaining this year. The last class will be held at Valyermo (aka St. Andrew's Abby) in the high desert near Palmdale.
We look forward to no longer being Aspirants, but being accepted as a Candidate Couple in Candidacy Year I. Even though we will start the fall in the Candidacy Year I class (our second year in formation), we will not be considered candidates until I hand- write (not type) a letter to the Archbishop requesting admittance to candidacy and am accepted into the program.  Candy must hand- write a letter to Deacon Craig,  Head of Diaconate Formation, saying that she supports me in my request for candidacy. We will become formal candidates on November 2nd in Mission Hills, when we go through this rite with Bishop Salazar.
If you are interested in becoming a Deacon Couple, please contact:
Diaconate Formation Office
Archdiocese of Los Angeles
3424 Wilshire Boulevard, 2nd Floor
Los Angeles, CA 90010-2241
213-637-7383​
If you have any questions about the Diaconate, please ask us or send us an e-mail to wyb@wyb.com.  We greatly appreciate your prayers and support and will continue to keep you informed of our journey.
Candy & Jay Krueger,
Aspirancy Year, Deacon Couple Formation,
Holy Family Parish, South Pasadena