On Saturday, June 6, 2015, we assisted in the Offertory Procession as part of this year's Diaconate Ordination. The Archdiocese of Los Angeles has been blessed with 19 new Permanent Deacons and their wives.  Please keep them and all those in a religious life of service in your prayers.  ( Click here to read all of Jay and Candy's Diaconate blogs!)
Here are pictures of the Ordination and blessings after the Mass.
Those who are about to be ordained are prayed over by Archbishop Gomez.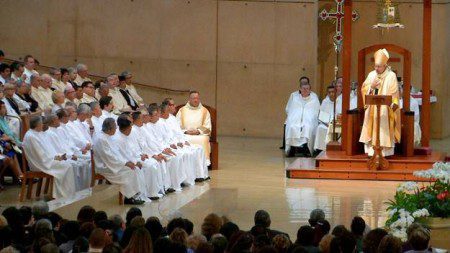 Archbishop Gomez addresses those who are going to be ordained as well as all of those present during his homily.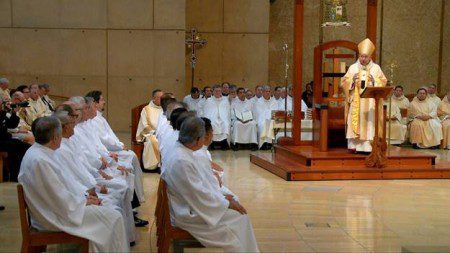 Those who are going to be ordained lie down facing the altar while the Litany of the Saints is sung.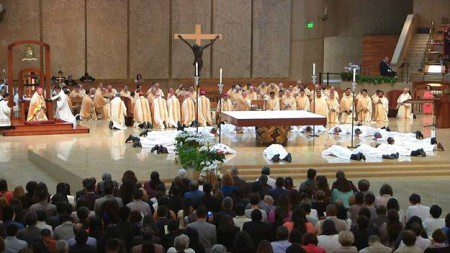 Each Deacon is ordained by the laying on of hands by Archbishop Gomez.
The newly ordained Deacons are vested by their spouses and pastors.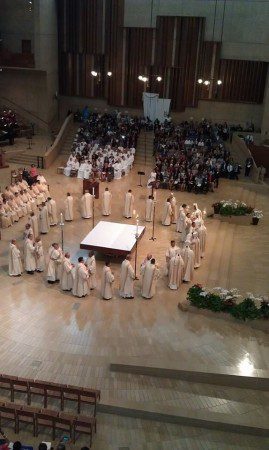 The newly ordained are congratulated by the Archbishop and others present.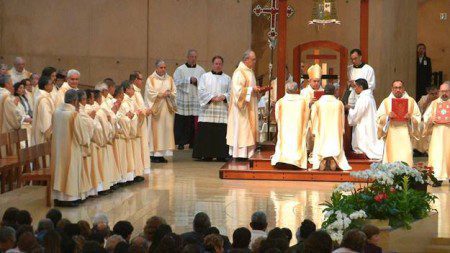 The newly ordained receive their copy of the Gospels.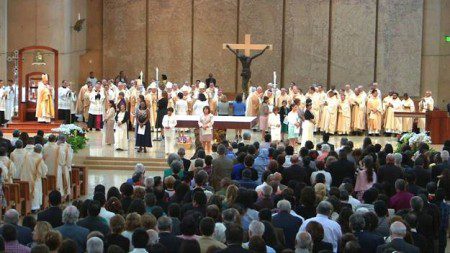 The spouses of the newly ordained Deacons receive a standing ovation by all present.
We have completed our two quizzes for the year and will have our oral exam for this year on June 13th.
Our last class will be held at St. Louis of France in La Puente on June 20th and we will officially have completed our third year of formation and have two years remaining.
Your continued prayers and support during this process are greatly appreciated. We are sure that we would not be able to continue without the generosity of all those support this journey.
If you have any questions about what we have experienced in the diaconate (aka "that deacon thing"), please ask us or send us an e-mail to gbmom_01_02@yahoo.com.
If you are interested in becoming a Deacon or a Deacon Couple for the Archdiocese of Los Angeles, please contact:
Diaconate Formation Office
Archdiocese of Los Angeles
3424 Wilshire Boulevard, 2nd Floor
Los Angeles, CA 90010-2241
213-637-7383
Candy & Jay Krueger,
Candidacy Year II, Diaconate Formation year III,
Holy Family Church, South Pasadena, CA