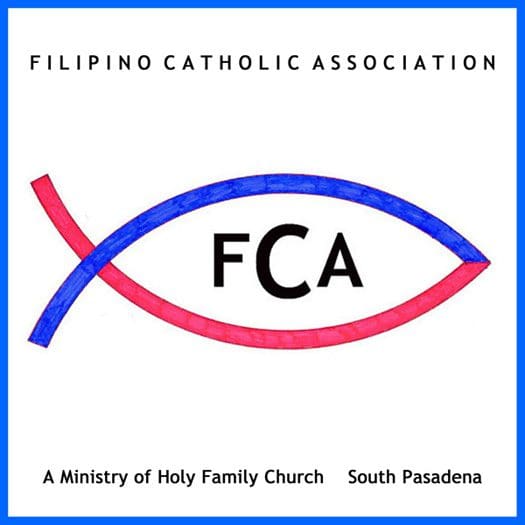 Mission Statement
The mission of the Filipino Catholic Association is to foster a spirit of fellowship and togetherness in prayer among its members, being mindful of the preservation of Filipino culture for future generations, and to provide spiritual and financial support to those in need.
Various activities to accomplish these goals include:
Participation in Parish activities and programs such as the Ministry Fair, the Giving Bank's Adopt-A-Family Christmas program, and possibly the Parish Fall Festival when volunteer resources are available.
Participation in a Block Rosary Prayer Service every 2nd and last Sunday of each month, hosted by various families throughout the year.
Celebration of Filipino feasts with Mass followed by a reception:
o Divine Mercy, held on the Sunday after Easter
o Simbang Gabi, honoring the Nativity in the Advent season
o Santo Nino, honoring the Holy Infant
o Filipino saints San Lorenzo Ruiz de Manila and San Pedro Calungsod de Cebu
First Friday Mass and Healing Services with the participation of the BLD (Bukas Loob Sa Diyos) community.
Fundraisers that benefit the Holy Family's Giving Bank and Filipino charities:
o Rummage sale in the summer
o After-dinner party in the fall
Filipino Story Time and Craft Sundays, a program for parents and children learning about Filipino culture and traditions through stories and craft-making.
All are welcome to become involved in this group, make new friends and learn about Filipino culture, heritage and faith traditions.
Calendar
First Friday: Mass and healing service
Second and last Sundays: Block Rosary and Divine Mercy Prayer
Third Sundays: Filipino Story Time & Crafts
Sunday after Easter: Feast of The Divine Mercy
Month of September: Holy Family Ministry Fair
Fall: After-Dinner Party
Month of December: Simbang Gabi
Month of January: Santo Nino
Month of July: Feast of Filipino Saints
Summer: Rummage Sale
Contact Jun Bandalan at fcaconnection@gmail.com