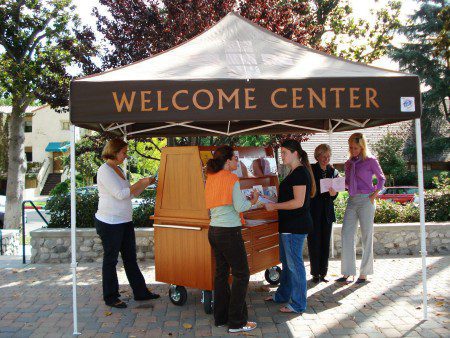 "Come, you who are blessed by my Father. Inherit the kingdom prepared for you from the foundation of the world. For I was hungry and you gave me food, I was thirsty and you gave me drink, a stranger and you welcomed me."(Matthew 25:34-36)
Do you remember (or at least recall hearing about) the days when the "Welcome Wagon" made its way through the neighborhood bringing gifts and baked goods to those who had just moved into the community?  I remember our family bringing my mother's famous "Merk's Coffee Cake" to new next door neighbors.  It was always so exciting  to meet new families, especially if they had children my age.  These visits made people feel  "at home" in their new house, part of the community.  Inevitably they were then introduced to all of the other families on the block as well as to the "best" and closest markets, nearby churches, schools, etc.  We all knew each other and the children played together.
Well, this is the  idea behind Holy Family's very own "Welcome Center" almost always "parked" under the great tree in the gathering area after the Sunday morning masses.  It is a place of welcoming for all of our "new neighbors" and visitors as well as a place for established parishioners to "meet-up".  Here you can register as a parishioner, receive a new parishioner information packet, find out about the myriad of volunteer opportunities, learn who to contact to arrange sacraments, and find out the "latest and greatest"  goings on in your church.  The friendly volunteers who staff the Welcome Center each Sunday morning are happy to answer any Holy Family and community questions you may have or direct you to someone who is able to do so.
Periodically, a Holy Family Ministry is "highlighted" at the Welcome Center and representatives from that ministry are available to share information about its services and volunteer opportunities.   Information about that particular Ministry is also highlighted in the bulletin on that Sunday.  The Welcome Center is generally in the gathering area on Sunday mornings from 9 am until 12:30 pm. The following ministries will have representatives at the Welcome Center this fall, please stop by and introduce yourself.
For more information about the Holy Family Welcome Center, including how to become a Welcome Center volunteer,  please see our Welcome Center page.
What would you like to see at the Welcome Center?  What may have been helpful information for you to know about Holy Family as a new parishioner? Please let us know by adding your comments below.  Thank you.