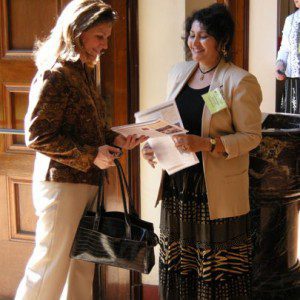 Mission Statement
The Hospitality/Greeters Ministry promotes a welcoming environment at Holy Family. We are committed to making these words a reality for all in our parish community. When we gather, we do so as a community – to celebrate, to give thanks, to praise, to worship, to rejoice. We take joy in the presence of one another.
About the Greeters/Hospitality Ministry
Hospitality ministers extend a warm greeting to all who gather at weekend Masses and are available to serve at special liturgies and parish events. The Hospitality minister does something that all parishioners are asked to do:  to be welcoming and hospitable to visitors and fellow parishioners.  The Hospitality Ministry is the community's way of being sure that this happens, being sure that the first face everyone sees at church is smiling, being sure that people feel at home.  Those are values that everyone in the assembly has responsibility for, but the hospitality minister is one who is assigned specifically to this responsibility.
Volunteer Ministry Opportunity
This ministry is open to all – women, men, singles, couples, families, youth, young adults, seniors.
Purpose of Position
Holy Family is a place where all are welcome. The Hospitality Ministry is committed to making these words a reality for all who come to liturgies and special events at Holy Family, whether that person is a long-time parishioner, is a newcomer, or is visiting our parish for the first time.
Responsibilities
Extend a genuine and warm greeting to all who come to weekend Eucharist and other liturgies and special events.
Skills Needed
A friendly smile and welcoming personality. Comfortable meeting and greeting others.
Amount of Time Required
Please arrive 15 minutes before Mass or special event.
When Ministry is Performed
Weekend Masses: Weekly, once a month, or twice a month. Special events: As needed.
Length of Commitment
One-year commitment requested.
What to Wear
Dress in a manner that is tasteful, dignified, and respectful of your ministerial role.
Training
Provided on site.
Contact
Bernadette McCann
bernadetteamccann@yahoo.com