CONTACT: Joe Manahan – jmanahan@holyfamily.org or 626-403-6149
WELCOME – Join Us for Our "Prayer & Practice" Sessions!
7:00-8:30pm – Inside Church
December 18, 2023 (Monday)
January 24, 2024 (Wednesday)
February 21, 2024 (Wednesday)
March 20, 2024 (Wednesday)
April 24, 2024 (Wednesday)
May 20, 2024 (Monday)
June 24, 2024 (Monday)
July 29, 2024 (Monday)
August 26, 2024 (Monday)
September 23, 2024 (Monday)
October 21, 2024 (Monday)
November 18, 2024 (Monday)
December 16, 2024 (Monday)
Mission Statement – The mission of the Holy Family Lector Ministry is to rouse the faith of the assembly and inspire them to discipleship by proclaiming the Word of the Lord with clarity and conviction.
About the Lector Ministry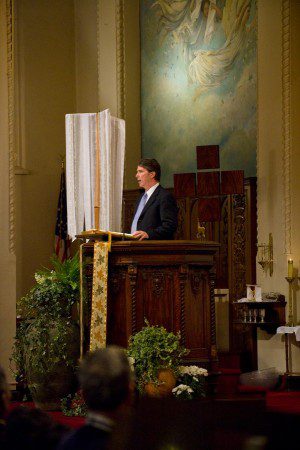 The Lector Ministry makes a truly satisfying and meaningful contribution to Eucharistic celebrations at Holy Family.
St. Benedict says in his Rule: "They should not presume to read who by mere chance take up the book . . . Only those are to discharge these duties who can do so to the edification of the hearers."  When one answers the call to be a minister of the word, one enters a deeper relationship with the word of God as revealed in sacred scriptures.  The lector takes upon themselves the duty and privilege of bringing the printed word to life—making it flesh.  The ministry as a lector gives voice to God's healing and challenging words as it goes forth irrevocably to the ends of the earth, achieving the purpose for which God sent it.  In a very real sense, the lector becomes a prophet—one who speaks for God.
A lector is expected to attend one-Monday-per-month "Prayer & Practice" sessions, pre-read and prepare reading(s), learn the proper pronunciation of unfamiliar words, and read at a pace that encourages thoughtful reflection of the Word and its meaning as it relates to our contemporary lives.
What It Takes To Be a Lector
The role of a lector is to proclaim the Word to the people of God. It is a ministry in which we are privileged to participate. It calls for sacrifice — an investment in time and energy to effectively communicate the sacred scriptures to the people of Holy Family.
By committing to be a lector at our parish, you agree to:
Prayerfully and thoroughly prepare your readings to ensure effective proclamation;
Attend monthly "Prayer & Practice" sessions with your fellow lectors;
Arrive at your scheduled Mass at least 15 minutes beforehand;
Dress in accordance with the parish Dress Code (found below);
Continue to work to improve your proclamation skills;
Refer each week to the website "Lector's Notes" at https://lectorprep.org for the historical and theological background of the readings.
All lectors maintaining this commitment will be considered actively participating in the ministry, and will therefore be included on the schedule.
Resources for Lectors