Discovering Forgiveness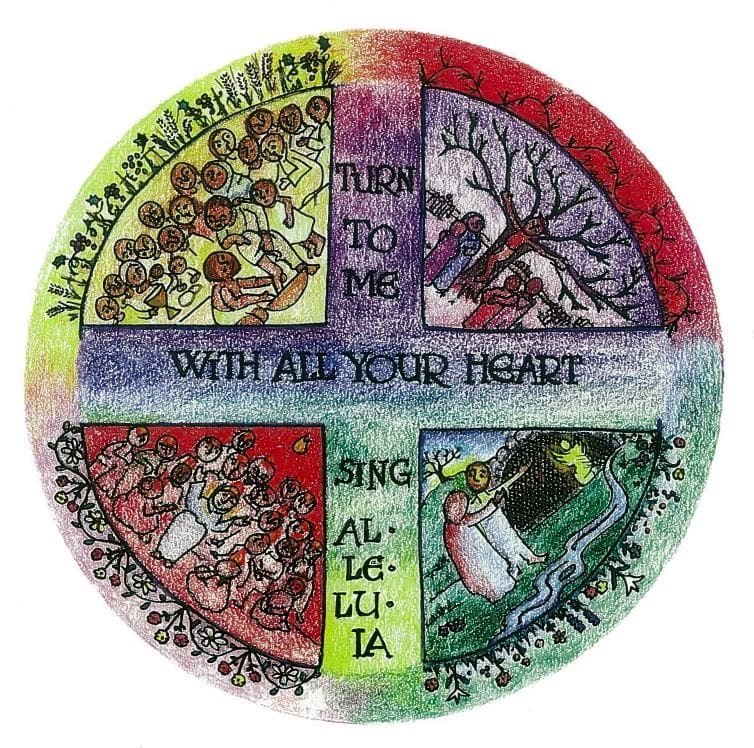 Gather in your Living Room, in addition to your holy space, have a plant within the prayer space.
Prayer leader: Let us pause for a moment and remember that we are loved by a God who is love. Let us pray…
In the name of the Father …
All: Amen.
Reader: Listen attentively to this meditation.
Repent, and believe the Gospels, that is, believe in this good news that the kingdom of God is at hand. In our lives, we always need to convert–every day! –and the church invites us to pray for this. In fact, we are never sufficiently oriented towards God and we must continually direct our minds and our hearts towards him. In order to do this, we need to have the courage to reject all that takes us off course, the false values which deceive us by subtly flattering our ego. Rather, we must entrust ourselves to the Lord, to his goodness and to his project of love for each of us. Lent is a time of repentance, yes, but it is not a time of sorrow! It's a time, of penance, yes, but it is not a time of sorrow, or morning. It is a joyous and serious commitment to strip ourselves of our selfishness, of our "old man " "old woman," to renew ourselves according to the gift grace of our baptism.
Only God can give us true happiness: it is useless to waste our time seeking it elsewhere, in wealth, in pleasure, in power, in a career…. the kingdom of God is a realization of all our aspirations because at the same time, it is the Salvation of humankind and the glory of God. In this week of Lent, we are invited to listen carefully and to hear Jesus's appeal to convert, and to believe in the gospel. We are exhorted to begin the journey towards Easter with commitment, to embrace evermore the grace of God who wishes to transform the world into a kingdom of justice, peace and fraternity.
May Mary most holy help us to live this Lenten season with fidelity to your word and with unceasing prayer, as Jesus did in the desert. It is not impossible! It means living each day with the desire to embrace the love that comes from God and which seeks to transform our life and the entire world.
This meditation comes from Pope Francis, he wrote this when he was archbishop of Buenos Aires.
Take a moment to look at the plant. Notice how it always is orienting itself to the sun. Consider how you are orienting yourself toward the Son.
Take a moment to share your thoughts with the others in your household. If you are alone, you might want to call a friend and share your thoughts, or journal about your need to orient yourself toward our God.
End this prayer time by going to the "Other Resources tab" then to the Lenten play lists. Choose one and listen to some of our Lenten hits.
Normal
0
false
false
false
EN-US
X-NONE
X-NONE
/* Style Definitions */
table.MsoNormalTable
{mso-style-name:"Table Normal";
mso-tstyle-rowband-size:0;
mso-tstyle-colband-size:0;
mso-style-noshow:yes;
mso-style-priority:99;
mso-style-parent:"";
mso-padding-alt:0in 5.4pt 0in 5.4pt;
mso-para-margin-top:0in;
mso-para-margin-right:0in;
mso-para-margin-bottom:8.0pt;
mso-para-margin-left:0in;
line-height:107%;
mso-pagination:widow-orphan;
font-size:11.0pt;
font-family:"Calibri",sans-serif;
mso-ascii-font-family:Calibri;
mso-ascii-theme-font:minor-latin;
mso-hansi-font-family:Calibri;
mso-hansi-theme-font:minor-latin;
mso-bidi-font-family:"Times New Roman";
mso-bidi-theme-font:minor-bidi;}
Normal
0
false
false
false
EN-US
X-NONE
X-NONE