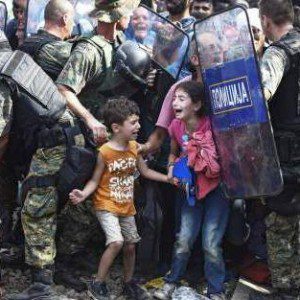 Sept. 15, 2015 Along with thousands of other migrants crossing into Macedonia, a boy walking alone was asked;
"Why [are you crossing the border] ?"   "For a new life and to help my family."
"Where are you going?"  "Germany."
"Does Europe want you?" "No."
As a new school year begins, we think of this youth and thousands of other children,. We realize these children will not have the basic educational tools for success. We also realize the importance of an education which gives equality, respect, and fights poverty. Education also builds a "culture of peace" and understanding. Let us bless, pray, give positive thought and energy to our children receiving an education and those never seeing the inside of a classroom.
"If we want to reach real peace in this world, we should start educating the children." Mahatma Gandhi.

click to learn more