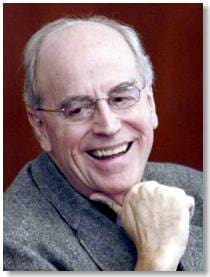 On October 2nd  Fr. James Heft, S.M., PhD presented
Vatican II Trajectories and Hermeneutics
Click here to watch presentation

Blessed Pope John XXIII opened the 21st Ecumenical Council of the Catholic Church in October of 1962, commonly called Vatican II.  It certainly is the most significant event of the Catholic Church in modern times.  We will celebrate, remember, and come to deeper understandings of this significant Council by having guest speakers about Vatican II.
Fr. Jim will begin this celebration and remembrance with his reflections on this Council as collected through his recent research and years of experience.
Fr. Jim Heft is USC's Alton Brooks Professor of Religion and is the founder and president of the university's Institute for Advanced Catholic Studies  Prior to joining the USC faculty, Fr. Jim, a Marianist priest, was chancellor of the   University of Dayton. An author of numerous books and articles, he has also served as board chair of the Association of Catholic Colleges and Universities.
He gathered leaders to speak about the effects of Vatican II on the Church.  Their speeches were put together in a book just published in July 2012: After Vatican II