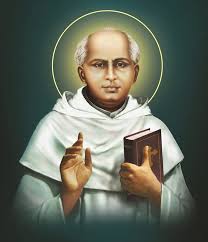 Dear friends,
Today, November 23, is a great day for my religious community: Carmelites of Mary Immaculate. This morning, on the feast day of Christ the King, Pope Francis canonizes Fr. Kuriakose Elias Chavara, the founder of Carmelites of Mary Immaculate, as saint. He was a man who lived his faith, protected the faith of the Church and cultivated faith in the minds of thousands
Kuriakose Elias Chavara was born on February 10, 1805 in Kerala (India). He entered the seminary at the age of 15 and was ordained priest on 29 November 1829. He had a deep devotion to the Eucharist, special affection towards Blessed Virgin Mary and the Holy Family. His desire to reach the height of holiness inspired him to cooperate with two of his mentors, Fr. Thomas Palackal and Fr. Thomas Porukara, in their efforts to begin a monastic style of priestly life. They started this new life style in 1831.  The early demise of his mentors places this task on the shoulders of young Kuriakose. The new religious order, Carmelites of Mary Immaculate, was canonically approved in 1855 and Fr. Kuriakose became the first Superior General. CMI (Carmelites of Mary Immaculate) is a missionary religious community which harmoniously blends contemplation and action.   congregation has more than 2000 priests. Including me, 90 CMI priests are presently working in North America.  Fr. Kuriakose Elias Chavara also started a religious order for women: Congregation of Mount Carmel in 1866. One of the members of this community, Sr. Euphrasia , is also going to be canonized today.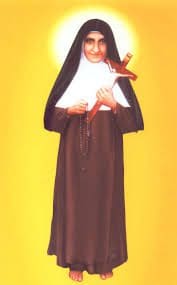 For the renewal of parish and family life, Fr. Kuriakose introduced Parish Mission for the laity and 40-Hour Eucharistic Adoration. It was something new to the Church in India. He also popularized Rosary devotions and the Way of the Cross. He defended catholic faith in Kerala by fighting against heresies that were destroying the Syro-Malabar Rite.
Fr. Kuriakose was a social reformer too. He played a large role in educating the people of the lower ranks of Indian society.  He introduced the system called "A school along with every church." He fought for equality, social justice and women liberation. He opened orphanages to take care of poor children. In order to spread Christian message he founded the first printing press of the Indian Catholic Church and also started the first Catholic Daily Newspaper.
Recognizing his contribution to the Church, he was nominated bishop. He   declined to accept that responsibility out of humility. Instead he served the Church as the Vicar General.  He became the light of the Kerala Church and the mirror that radiated the rays of faith.  As he himself testified before his death, that "the devotion to the Holy Family inculcated in me by my parents helped me to keep safe the grace that I received in baptism.  After living 66 years of grace filled life, he died on January 3, 1871.
May God bless you and St. Kuriakose intercede for you.
Fr. Jose Parathanal, CMI