We are thrilled to welcome Father Albert Bahhuth as our new Pastor, effective July 1st!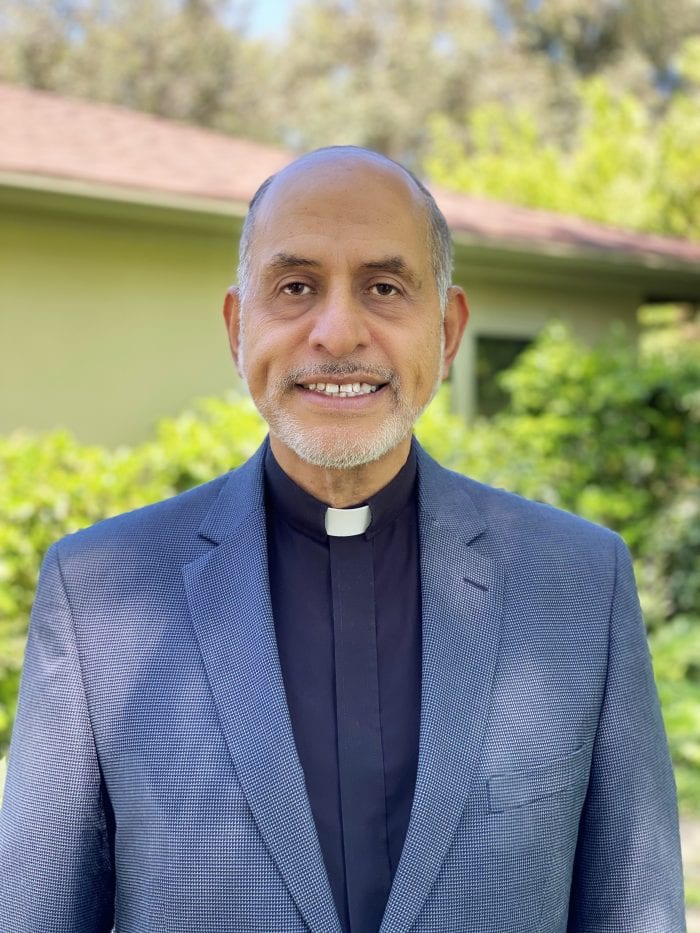 Dear Parishioners and Friends of Holy Family,
We have just heard from the Archdiocese of Los Angeles the name of Holy Family's new Pastor.  I am delighted to share with you that Fr. Albert Bahhuth will be joining Holy Family on July 1st.
Many of you know Fr. Albert as the former Vicar General/Moderator of the Curia of the Archdiocese, who stepped down from his role last September.  Prior to his role as Vicar General, Fr. Albert pastored two parishes:  St. Finbar in Burbank and St. Kateri Tekakwitha in Santa Clarita.  He has been on sabbatical for the past year.
I have had the pleasure of working with Fr. Albert on the Board of Trustees of St. John's Seminary, on the Archdiocesan Pastoral Council, and as Vicar General over the past 14 years.  I am thrilled that Holy Family will be in such good hands as I transition out of my role as Parish Life Director.  Under Fr. Albert's leadership, I have no doubt that Holy Family will continue to grow and flourish.  
Below you will find some more information about Fr. Albert's background.  Over the next two months, there will be a number of opportunities for you to get to know Fr. Albert before he assumes responsibility for the parish on July 1st.
Please don't hesitate to reach out to me if you have any questions.
During this time of transition, please remember our parish community, Fr. Albert and me in your prayers.
With gratitude and joy,
Cambria Tortorelli
Parish Life Director
[clear-line]
The youngest of seven children, one girl and six boys, I was born in Beirut, Lebanon on October 6, 1956. I was baptized, confirmed, and received my first communion in the Greek Catholic Church, an Eastern Rite church in union with Rome. After my sophomore year in college and because of the civil war in Lebanon, I came to the United States to continue my education. I received my bachelor's degree in chemical engineering from the University of Missouri at Rolla and my Master and Doctorate degrees in the same field from the University of Mississippi. I taught for a short period at the University of Wyoming and then in 1984, moved to Southern California.
I joined St. John Vianney parish in Hacienda Heights where my relationship with Christ and the Church began to grow. I worked in the retail and fast-food business for a few years. I then purchased a Subway Sandwiches franchise and operated two stores. At this time, I began to reflect on questions like; what is the purpose of my life? How can I make a difference in the world? Some parishioners began to ask me if I thought about the priesthood and my answer was "No". This led me to take a year off from my business and join a lay missionary group to help discern my vocation. I was assigned to Ascension Church in South Los Angeles, and during my year there and with the guidance of a spiritual director I realized that I was being called to the priesthood.
I joined St. John's Seminary in September of 1991. I was ordained on June 1, 1996. I served at St. Gregory the Great in Whittier and Holy Family Glendale as an associate pastor. I was appointed as pastor of St. Finbar Parish in Burbank where I served for 11 years after which I was appointed the pastor of St. Kateri Tekakwitha in Santa Clarita. After two years, I was asked by Archbishop Gomez to serve as the Moderator of the Curia/Vicar General for the Archdiocese. I completed my term last September and I am on a sabbatical till June 30, 2021 when I will begin my ministry at Holy Family.
These last 25 years have been the best years of my life. I am grateful to God for my vocation and for all those who accompanied me throughout my life making me who I am now. I have grown in my love for Jesus and His Church. Saving souls for Christ and pastoring His flock gives meaning and purpose to my life. There is nothing else that I desire to do. I am looking forward to starting my ministry at Holy Family and getting to know each and every one of you so together we may continue to proclaim in new ways that Jesus is Lord and build His Kingdom in South Pasadena.
Easter blessings,
Fr. Albert Bahhuth
Watch Fr. Albert's stories