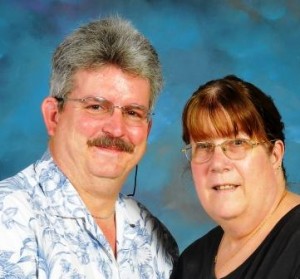 December 1, 2013
On Tuesday of last week, we got an e-mail that we hoped  we would not receive until after Christmas; Tess, our "sister" in the Diaconate, had died of cancer.  This was just nine days after we heard the news about her diagnosis – that the cancer had returned and  she only had a few months to live.
I (Jay) felt numb at the news. I passed the sad news along to Sr. Barbara and Br. Charlie who had led us through the 19th Annotation of Ignatius Loyola last year.  Tess was in my small faith sharing group for the retreat.
As our class regained composure, we were asked to provide the rosary and vigil prayer service for Tess.  This request was made by Ding, our classmate and Tess's husband.
One of our classmates took the lead in getting us together for a conference call on Saturday to review the draft rosary and prayer service as well as the assignments. Deacon Chris & Yvonne, who were our facilitators last year, were also involved.
The rosary and prayer service will be held on Wednesday of this week with the funeral on Thursday. We hope the work that we have done as well as the prayers provided will be a tribute to our "sister" Tess, expressing our love for her, her husband and family. Working on the vigil and rosary helps us to work through the loss as we prepare our last earthly gift.
We will continue to pray for Tess.  We will also continue to support her husband and family in whatever means we can.
May the soul of our sister Tess and all the souls of all the faithful departed through the mercy of God, rest in peace.  Amen.
If you are interested in becoming a Deacon or a Deacon Couple for the Archdiocese of Los Angeles, please contact:
Diaconate Formation Office
Archdiocese of Los Angeles
3424 Wilshire Boulevard, 2nd Floor
Los Angeles, CA 90010-2241
213-637-7383​
Diaconate Information Days – Called To Be A Deacon?
Prospective applicants and their wives are invited to attend an Information Day presented by the Office of Diaconate Formation.  Here you can meet the formation staff and learn more about the formation program.
Sunday, January 12, 2014 from 2:00 p.m. to 4:00 p.m. at St. John Chrysostom Parish, 546 East Florence Ave., Inglewood, CA 90301.
Sunday, April 13, 2014 from 2:00 p.m. to 4:00 p.m. at St. Maximilian Kolbe Parish, 5801 Kanan Rd. Westlake Village, CA 91362.
If you have any questions about the Diaconate, please ask us or send us an e-mail at wyb@wyb.com.  We greatly appreciate your prayers and support and will continue to keep you informed of our journey.
Candy & Jay Krueger,
Candidacy Year I, Diaconate Formation,
Holy Family Church, South Pasadena, CA