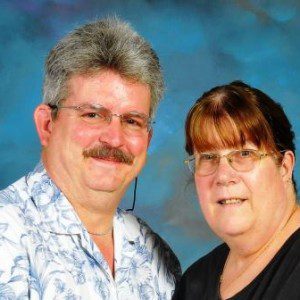 Candy & Jay Krueger returned to their diaconate classes on September 7, 2013.
Hi,
Below is our latest blog journey. It covers not only our Saturday class, but our summer as well.
The summer was very active for us; homework assignments, meeting our Deacon journeying couple, Deacon Joe & Lorraine Mirzerski from St. Therese's parish in Alhambra, and writing our candidacy letters. Jay has written to Archbishop Gomez asking that he be admitted as a candidate for the permanent diaconate. Candy has written her letter to Deacon Craig Siegman, the director of Diaconate formation, stating that Jay has her permission to enter into the program as a candidate.
We would like to briefly discuss our letter writing and our journeying couple.
First, the letters. We are pretty sure that someone may be asking, "Isn't this a little late to be doing this?"  As part of the formation for the diaconate, there are specific actions that are required. As part of the application process, both are required to sign the initial applications. Prior to candidacy, the letters above must be written. And, yes, they must be written in your own handwriting (printed or cursive). (Although the content is provided, it has been a long time since either of us has used a pen to write a letter.) Additional letters and requests for acceptance are required as you proceed through the program. One of the key aspects of the program is approval of the spouse. If, at any during the formation process, the spouse determines that being in the program is having a negative impact on their relationship or family, she can request that they leave the program.
Now, our journeying couple, Deacon Joe & Lorraine. As part of candidacy, you are assigned a journeying couple, who are mentors, friends and advisers. Although you can request a specific couple, the final decision is made by the diaconate formation staff.
We requested and received Deacon Joe & Lorraine as our journeying couple. There are a number of reasons that we requested them. The two main reasons are that they are from a parish close to Holy Family and they have in the past, and will continue in the future, to conduct vigil and graveside services for funerals held at Holy Family as well as baptisms. Some of you may have met them during one of their services.
The purpose of a journeying couple is to provide support to you during the remainder of your formation.  They are your mentor and guide. They help bridge the gap between the formation aspects of the diaconate and what you will be doing in a parish. They are a sounding board and answer any question you may have.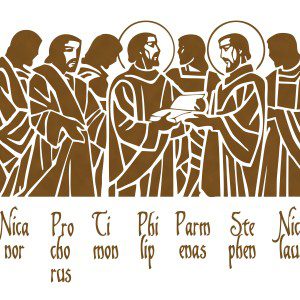 We will officially become candidates on November 2nd in Mission Hills, when we go through this Rite of Acceptance with Bishop Salazar.
Our second year of Diaconate training started on September 7, 2013 as we returned to Alemany High School.
This year we will focus on the New Testament, Lector & Bereavement training and selected Encyclicals.
Our focus will be on how our New Testament training will occur.
Training will not only be on the content of the New Testament, but to look at what it says to us about our faith and then be able to discuss it with others. That is to say, to be able to use our knowledge and reflections to be able to not only explain our faith to others, but to answer questions that someone may have about the Roman Catholic Church.
We would also be able to engage those who are not Catholic and discuss our beliefs. In a conversation like this, you start by listening to what the other person is saying and the point that is being made. Your response needs to be presented in a non-threatening manner and, when possible, start with points that you have in common. You are not trying to win an argument. What you are doing is sharing information with someone you respect and with the hope that they respect you.  In this discussion we discussed the writings of Matthew, the similarities Matthews Gospel has with Mark and Luke's Gospel, as well as the differences.  To take a passage and look for the reasons why that passage was written and what our opinions were on how the passage might differ from the other two Gospels.  While our class has a great deal in common, there is also a uniqueness to each of us, with life experiences, where in life one is, our understanding of the passage, each gave their personal view on the passage and the discussion was lively.  We are encouraged to speak our minds, with respect, even though we might disagree on the subject matter.  To be able to discuss our views on the various passages and texts in an open and honest discussion is so nourishing, it helps us to understand the different views, the different ways of approaching a topic and to be honest and understanding in a conversation when discussing the work of God.
Our next class will be an all group retreat on September 21st in La Puente.
As we begin our second of five years in formation, we want to thank all of those who continue support and pray for us.
If you are interested in becoming a Deacon Couple for the Archdiocese of Los Angeles, please contact:
Diaconate Formation Office
Archdiocese of Los Angeles
3424 Wilshire Boulevard, 2nd Floor
Los Angeles, CA 90010-2241
213-637-7383​
Alternatively, attend the following information day:
Sunday, October 27 from 2:00 p.m. to 4:00 p.m. at Incarnation Parish, 214 West Fairview Ave. Glendale, 91202
If you have any questions about the Diaconate, please ask us or send us an e-mail to wyb@wyb.com.  We greatly appreciate your prayers and support and will continue to keep you informed of our journey.
Candy & Jay Krueger,
Candidacy Year I, Diaconate Formation,
Holy Family Church, South Pasadena, Ca