On October 2nd through the 4th ,2015 the St. Elizabeth Ann Seton class spent weekend retreat at the Holy Spirit Retreat Center in Encino. We experienced a wonderful retreat from Sister Regina Robbins, SND. The retreat was themed "Transfiguration to Transformation Retreat for Rite of Acolyte."  Sister had a wonderful style which included some of her life experiences with a smattering of humor now and then.   (Click here to read all of Jay and Candy's Diaconate blogs!)
The culmination of the retreat was the reception of the Rite of Acolyte. This was conferred during the Saturday evening Mass with Bishop Salazar as the Presider and Deacon Ryan Adams as the Master of Ceremonies.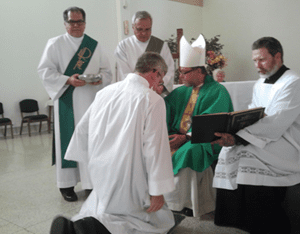 After receiving the Rite on Saturday, Jay assisted at the 5:30pm Sunday Mass by serving as Acolyte.
Our next class will be October 10, 2015 at Alemany High School, Mission Hills. (If you count the retreat, the 10th will be our sixth class in a row. Usually, classes are held every other weekend. It has been a challenge to complete all of the homework with 6 days between classes.)
If you have any questions about what we have experienced in the diaconate (aka "that deacon thing"), please ask us or send us an e-mail to gbmom_01_02@yahoo.com.
If you are interested in becoming a Deacon or a Deacon Couple for the Archdiocese of Los Angeles, please contact:
 Diaconate Formation Office
Archdiocese of Los Angeles
3424 Wilshire Boulevard, 2nd Floor
Los Angeles, CA 90010-2241
213-637-7383
Upcoming Diaconate Information days are as follows:
Sunday, October 18, 2015 from 2:00 to 4:00 p.m. at Incarnation Community Center, 214 W. Fairview Ave., Glendale, 91202
Candy & Jay Krueger,
Diaconate Formation, Year IV,
Holy Family Church, South Pasadena, CA