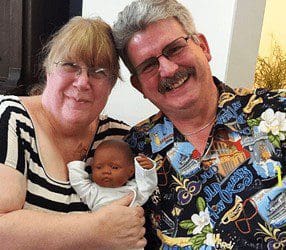 February 6, 2016 we continue our diaconate journey… at Incarnation Parish, Glendale.  Our next class will also be at Alemany High School, Mission Hills on February 20, 2016.(Please click here to read all of our experiences of the bi-weekly  Deacon formation classes).
As, we have mention previously, one of the focuses for this year is the sacrament of Baptism. Although we were not the presiders, we did have a role. We were the parents of Joseph, the baby (actually the doll) who was being baptized.
As with all parents, it had been many years since our children were baptized. Even though Jay has assisted as an acolyte for many baptisms recently, being in the role of parent was very different.
We answered the questions that is asked of the parents. What do you ask of God's Church for Joseph? Do you clearly understand what you are undertaking? The questions relating to the renunciation of sin and the profession of faith.
We hold Joseph for the two anointing's with oil and the baptism. We hold Joseph as the Deacon gently pours blessed water over the crown of his head.  We clothe him in a white garment, a symbol of his new life and membership into our Church and receive a lite candle, a symbol of the eternal light of Jesus Christ.  The sacrament ends with the parents and godparents receiving a blessing from all those in attendance to show a solidarity of the living Church to the parent and godparents, to be a living example of God's love for the family and friends.
It is very important to understand what it feels like when a child is baptized. It is important so that you can help the parents, godparents, family and friends. Help them to understand the blessing that this sacrament is, how important a part the parents and Godparents will make in the life of their child in its spiritual growth and understanding the love God has for their child as well as the grace that now resides in the child's spirit and the commitment that they are making in the name of the child who is being baptized.
If you have any questions about what we have experienced in the diaconate (aka "that deacon thing"), please ask us or send us an e-mail to gbmom_01_02@yahoo.com.
If you would like to attend a Diaconate Information day, please attend one of the following:
Sunday, April 24, 2016 from 2:00 to 4:00 p.m. at St. Dominic Savio Parish, 13400 Bellflower Blvd. Bellflower, CA 90706
Sunday, October 23, 2016 from 2:00 to 4:00 p.m. at St. John Chrysostom Parish, 546 E. Florence Ave. Inglewood, CA 90301.
If you are interested in becoming a Deacon or a Deacon Couple for the Archdiocese of Los Angeles, please contact:
Diaconate Formation Office
Archdiocese of Los Angeles
3424 Wilshire Boulevard, 2nd Floor
Los Angeles, CA 90010-2241
213-637-7383
Candy & Jay Krueger,
Diaconate Formation, Year IV,
Holy Family Church, South Pasadena, CA