CELEBRATING RESPECT LIFE MONTH
"Live the Gospel of Life"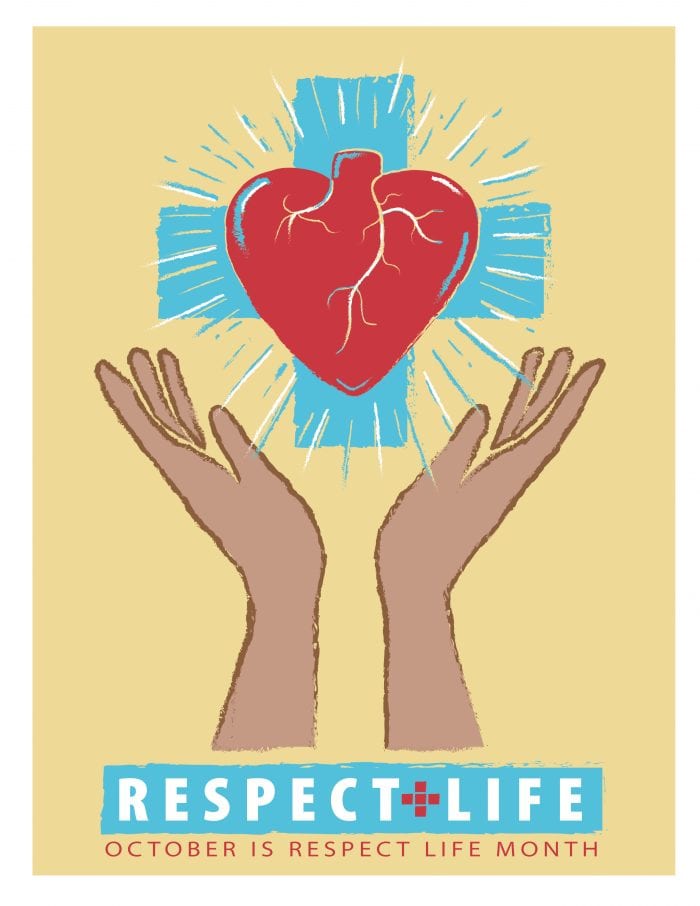 Each October, the United States Catholic Church celebrates Respect Life Month. This year the theme is "Live the Gospel of Life" to mark the 25th anniversary of Pope St. John Paul II's encyclical "Evangelium Vitae" (EV) or "The Gospel of Life". Pope St. John Paul II wrote that the Gospel of life is at the heart of Jesus' saving message to the world. In taking on human flesh, dwelling among us, and sacrificing his very life for our redemption, Christ reveals the profound dignity of every human person. This God-given dignity does not change with our stage of life, abilities, level of independence, our faith or lack of it, our ethnicity, sexual orientation, or any other varying circumstance.
Jesus calls each of us to "care for the other as a person for whom God has made us responsible" (EV 87). The Gospel of life is intrinsic to the whole Christian life and foundational to the decisions we make on a daily basis. For "the Gospel of God's love for man, the Gospel of dignity of the person, and the Gospel of life are a single and indivisible Gospel" (EV 2).
This year's Respect Life Month also overlaps with a presidential election cycle. We invite you to reflect on Respect Life Month and the Gospel of life by reading and praying over Forming Consciences for Faithful Citizenship: https://www.usccb.org/issues-and-action/faithful-citizenship/forming-consciences-for-faithful-citizenship-title.
Over the next weeks, we will focus on different life issues:
• October 4th: Racism
• October 11th: Isolation of vulnerable adults during the pandemic
• October 18th: Hunger
• October 25th: Walking with Moms in Need
• November 1st: Immigration
[clear-line]
OCTOBER 4th: RACISM
This month, as we reflect on what it means to live a Gospel of life, we continue to carry in our hearts all in our communities whose lives are impacted by racism. Our country is currently wrestling with the pain of growing in awareness that our brothers and sisters of color have been suffering from centuries of oppression. This injustice is certainly a deep violation of the Gospel of life that calls us a Catholic community to promote the dignity and flourishing of all God's children. We know that our faith is grounded in the belief that we must love our neighbors as ourselves, as Christ repeatedly emphasized in the Gospels. For this reason, Pope Francis has exclaimed that "We cannot tolerate or turn a blind eye to racism and exclusion in any form and yet claim to defend the sacredness of every human life" (General Audience, June 3, 2020). Many of us are asking, therefore, how we can heal and grow together as a nation for the good of all given our history and present realities.
Racial profiling, police brutality, and mass incarceration are societal issues rooted in decades of bias and inhumanity. They are daily realities that directly impact individuals, families, and entire communities in incredibly painful, traumatizing, and debilitating ways. It is therefore imperative for those of us who have been oppressed and those of us who have benefited from systems of racial inequality to continue to pray, learn, and act to build God's Kingdom of love and justice. At times, it may be very difficult for many of us to recognize and address our own internal biases and contributions to racial injustice. We know and can trust, though, that the Lord can guide us in healing and in cooperating with this work of the Spirit. May we continue to more fully imitate Christ as we grow together to better love our neighbors of every creed, race, religion, and ethnicity in our hearts, through our words, and by our deeds. Together, let us continue to place our faith and hope in our resurrected Lord. As an Easter people, may we trust that as we turn to the Lord and open our hearts to grace, God will continue to show us the way and work through us to bring about greater peace, justice, and life for people of color and all the oppressed. For more information and for helpful resources, please visit https://www.usccb.org/committees/ad-hoc-committee-against-racism.
[clear-line]
OCTOBER 11th: Isolation of Vulnerable Adults During the Pandemic

This has been an especially challenging time for the elderly and homebound and those who care for them and about them. All of us are adjusting to the isolation that comes with staying at home and limiting our exposure to the outside world.
But for seniors and those homebound, the impact has been especially difficult. In healthcare circles, human interaction is known to be an important "social determinant of health," meaning that social connection keeps us healthier. The Holy Family Pastoral Care Ministry meets this need for our senior and homebound parishioners. It is the main goal of our mission – connecting people with the Church by visiting them at home, praying and celebrating Eucharist.
The pandemic confronts us with a real quandary. The elderly and homebound, who benefit the most from social interaction, are also the people most vulnerable to the virus. Therefore, they are quarantined for their protection. Of course, this very isolation creates emotional and mental stress, all in the name of keeping them healthy! This situation has been burdensome for families who have been forced to cut back on the number of times they visit their loved ones. When they do visit, social distancing takes an emotional toll since there is limited or no physical contact.
Of course, the most heartbreaking stories are those of seniors and homebound who are quarantined in assisted living facilities and the like. Visiting hours have been severely restricted, if they are allowed at all, with the goal of minimizing outbreaks among this very vulnerable group. This is a drastic measure intended to save lives, but the negative impact of social isolation on the mental and physical health of these residents is very real.
Our ministry has shifted gears to maintain contact with and support our seniors and homebound as best we can. We make regular calls to check in, pray with them and to offer a friendly connection and perhaps an uplifting moment to their day. We also make sure they have enough food and that they're able to connect with technology for all of our online services which include Masses, prayer services and speaker engagements.
It's important that we assure our parishioners that we're here for them and we look forward to the day when we can bring Holy Communion to them again. To that end, we are working on protocols to get our Eucharistic Ministers back in the field as soon as possible. We are benchmarking other parishes and monitoring public health guidelines in order to keep everyone safe, even as we enter their homes and spend some time. We are confident that we can find a workable solution soon.
Should you wish to help us in our outreach efforts, please contact us at 626.403.6115. We continue to pray for our seniors and homebound as they are praying for all of us. We will emerge from this challenging time stronger and more connected to our faith and to one another!
[clear-line]
OCTOBER 18th: Hunger

The Catholic Church proclaims the central truth that every human person is sacred. Created in God's image and likeness and redeemed by the death and resurrection of Christ, every person has fundamental human dignity that comes from God, not from any human attribute or accomplishment.
Every person has a right to life and to the material and spiritual support required to live a truly human existence. The right to a truly human life logically leads to the right to enough food to sustain a life with dignity. The poverty and hunger that diminish the lives of millions in our own land and in so many other countries are fundamental threats to human life and dignity demand a response from believers.
The Catholic community brings to our consideration of agricultural policies the teaching of our Church and the everyday experience of our community of faith in rural communities in the United States and abroad. In light of this teaching and experience, we reiterate the criteria for policies that shape our advocacy:
• Do these policies help to overcome hunger and poverty?
• Do they provide a safe, affordable, and sustainable food supply?
• Do they ensure a just and decent life for farmers and farmworkers?
• Do they sustain and strengthen rural communities?
• Do they protect God's creation?
• Do those affected by agricultural policies have a real opportunity to participate in their development?
Our criteria lead us to focus attention on several key policy areas. We realize that taking positions on these issues involves prudential judgments and that people of good will may disagree about the application of Catholic principles to specific policies. We hope our reflections will encourage widespread discussion and dialogue on issues related to agriculture and their impact on human life, human dignity, and the common good.
USCCB – Catholic Reflections on Food, Farmers, and Farmworkers
[clear-line]
OCTOBER 25th: Walking with Moms in Need

Pregnant and parenting moms in need live in our parishes and our neighborhoods. As Pope Francis reminds us, our parishes need to be "islands of mercy in the midst of the sea of indifference." Our hope is that everyone in our parish community would feel confident connecting a mother in need with Holy Family Parish to get her the help she might need.
In order to assess, expand and better communicate resources to local pregnant moms and families in need, our parish is joining a United States Conference of Catholic Bishops nationwide effort entitled: "Walking with Moms in Need: A Year of Service."
The Walking with Moms in Need committee is looking for help from our parish community to understand how to better support mothers in need. If you have thoughts or insights which could be helpful for this initiative, or would like to volunteer, please email us at walkingwithmoms@holyfamily.org.
[clear-line]
NOVEMBER 1st: Immigration
In the Catholic Tradition, responsible citizenship is a virtue, and participation in political life is a moral obligation. "People in every nation enhance the social dimension of their lives by acting as committed and responsible citizens" (Evangelii Gaudium, no. 220). The obligation to participate in political life is rooted in our baptismal commitment to follow Jesus Christ and to bear Christian witness in all we do. As the Catechism of the Catholic Church reminds us, "It is necessary that all participate, each according to his position and role, in promoting the common good. This obligation is inherent in the dignity of the human person. . . As far as possible citizens should take an active part in public life" (nos. 1913-1915).
Further, as a nation, we share many blessings and strengths, including a tradition of religious freedom and political participation. However, as a people, we face serious challenges that are both political and moral. This has always been so and as Catholics we are called to participate in public life in a manner consistent with the mission of our Lord, a mission that he has called us to share. As Pope Francis teaches,
An authentic faith . . . always involves a deep desire to change the world, to transmit values, to leave this earth somehow better than we found it. We love this magnificent planet on which God has put us, and we love the human family which dwells here, with all its tragedies and struggles, it hopes and aspirations, its strengths and weaknesses. The earth is our common home and all of us are brothers and sisters. If indeed "the just ordering of society and of the state is a central responsibility of politics," the Church, "cannot and must not remain on the sidelines in the fight for justice." (Evangelii Gaudium, no. 183).
During this election cycle, our faith urges us to remember that we are one human family, whatever our national, racial, ethnic, religious, economic, and ideological differences. We are our brothers' and sisters' keepers, wherever they may be—loving our neighbor has global dimensions. This virtue of solidarity includes the scriptural call to welcome the stranger among us—including immigrants seeking work—by ensuring that they have opportunities for a safe home, education for their children, and a decent life for their families.
In fact, the Gospel's mandate to "welcome the stranger" requires Catholics to care for and stand with newcomers, authorized and unauthorized, including unaccompanied immigrant children, refugees and asylum-seekers, those unnecessarily detained, and victims of human trafficking. Our bishops point out that comprehensive reform is urgently necessary to fix a broken immigration system and should include a broad and fair legalization program with a path to citizenship; a work program with worker protections and just wages; family reunification policies; access to legal protections, which include due process procedures; refuge for those fleeing persecution and violence; and policies to address the root causes of migration. For more information, please visit: https://www.usccb.org/committees/migration/immigration