CELEBRATING RESPECT LIFE MONTH
"Live the Gospel of Life"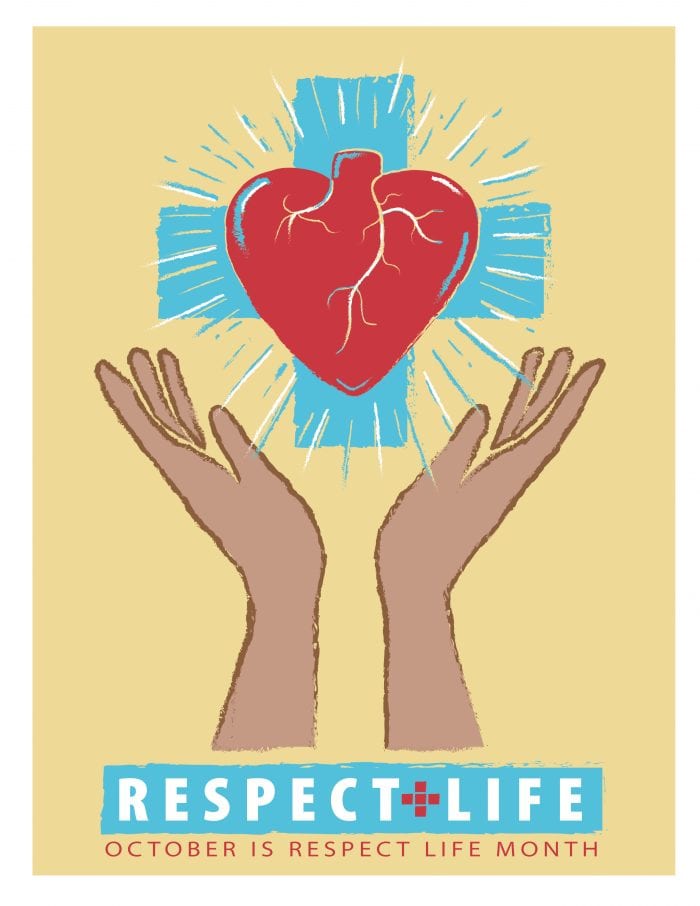 Each October, the United States Catholic Church celebrates Respect Life Month. This year the theme is "Live the Gospel of Life" to mark the 25th anniversary of Pope St. John Paul II's encyclical "Evangelium Vitae" (EV) or "The Gospel of Life". Pope St. John Paul II wrote that the Gospel of life is at the heart of Jesus' saving message to the world. In taking on human flesh, dwelling among us, and sacrificing his very life for our redemption, Christ reveals the profound dignity of every human person. This God-given dignity does not change with our stage of life, abilities, level of independence, our faith or lack of it, our ethnicity, sexual orientation, or any other varying circumstance.
Jesus calls each of us to "care for the other as a person for whom God has made us responsible" (EV 87). The Gospel of life is intrinsic to the whole Christian life and foundational to the decisions we make on a daily basis. For "the Gospel of God's love for man, the Gospel of dignity of the person, and the Gospel of life are a single and indivisible Gospel" (EV 2).
This year's Respect Life Month also overlaps with a presidential election cycle. We invite you to reflect on Respect Life Month and the Gospel of life by reading and praying over Forming Consciences for Faithful Citizenship: https://www.usccb.org/issues-and-action/faithful-citizenship/forming-consciences-for-faithful-citizenship-title.
Over the next weeks, we will focus on different life issues:
• October 4th: Racism
• October 11th: Isolation of vulnerable adults during the pandemic
• October 18th: Hunger
• October 25th: Walking with Moms in Need
• November 1st: Immigration
CELEBRATING RESPECT LIFE MONTH: RACISM
This month, as we reflect on what it means to live a Gospel of life, we continue to carry in our hearts all in our communities whose lives are impacted by racism. Our country is currently wrestling with the pain of growing in awareness that our brothers and sisters of color have been suffering from centuries of oppression. This injustice is certainly a deep violation of the Gospel of life that calls us a Catholic community to promote the dignity and flourishing of all God's children. We know that our faith is grounded in the belief that we must love our neighbors as ourselves, as Christ repeatedly emphasized in the Gospels. For this reason, Pope Francis has exclaimed that "We cannot tolerate or turn a blind eye to racism and exclusion in any form and yet claim to defend the sacredness of every human life" (General Audience, June 3, 2020). Many of us are asking, therefore, how we can heal and grow together as a nation for the good of all given our history and present realities.
Racial profiling, police brutality, and mass incarceration are societal issues rooted in decades of bias and inhumanity. They are daily realities that directly impact individuals, families, and entire communities in incredibly painful, traumatizing, and debilitating ways. It is therefore imperative for those of us who have been oppressed and those of us who have benefited from systems of racial inequality to continue to pray, learn, and act to build God's Kingdom of love and justice. At times, it may be very difficult for many of us to recognize and address our own internal biases and contributions to racial injustice. We know and can trust, though, that the Lord can guide us in healing and in cooperating with this work of the Spirit. May we continue to more fully imitate Christ as we grow together to better love our neighbors of every creed, race, religion, and ethnicity in our hearts, through our words, and by our deeds. Together, let us continue to place our faith and hope in our resurrected Lord. As an Easter people, may we trust that as we turn to the Lord and open our hearts to grace, God will continue to show us the way and work through us to bring about greater peace, justice, and life for people of color and all the oppressed. For more information and for helpful resources, please visit https://www.usccb.org/committees/ad-hoc-committee-against-racism.