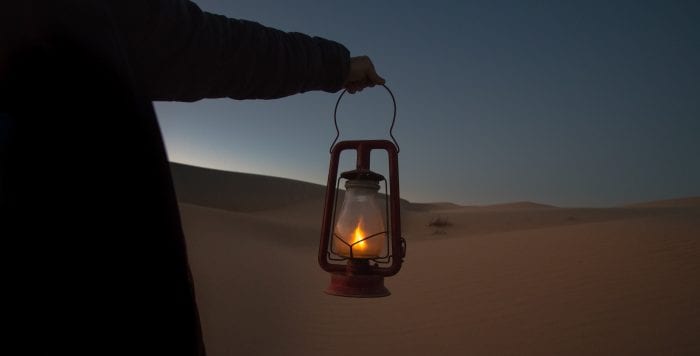 Community Reflection
But whoever lives the truth comes to the light, so that his works may be clearly seen as done in God. ~ Jn 3:21
I can't remember the last time I went to mass in an actual building. It must have been around this time in 2020, before the world shut down and we walked together into this strange, dark time. Like Joe shared in his Ash Wednesday reflection, I also feel like this year has been one long Lenten season. So much suffering and sacrifice. So much loss.
How can a person survive living in darkness like this? We've all found ways of making lockdown easier—neighborhood walks, endless video chats, sourdough bread. (Ugh, remember the sourdough craze of 2020? I think I'll stick with store-bought, thank you very much). But despite our distractions from pandemic boredom, the reality is life will never be the same.
This week's Gospel shows us, though, that there is a way we can all walk through our suffering, our pain, and our darkness into the light. It is through God's most profound Truth– love. How many ways have we lived Christ's truth even through the isolation of the last year? Every act of kindness. Every time we extend a little grace to those who annoy us. Every time we share our resources with someone who has less. And yes, even every time we tried to bake that sourdough bread! It may have tasted weird or fallen flat, but it was an expression of our care for others–or ourselves– and that is how we walk in Christ's light.
— Erin Conley (Trinity YAM Member)
Ways of "Discovering Jesus, Our Light" This Week
Gather

On the Road to Light – March 12th, part of Holy Family's "Let's Lent Together" series
HOPE: The Gift of the Annunciation – March 16th, 7pm PT

"Since he was a righteous man…: St. Joseph from Sacred Scriptures" with Fr. Patrick Mullen, S.T.L, Ph.D. – March 19th, part of Holy Family's "Lenten Lucis" series

Meatless Meal Prep Live Cooking Demo – March 17th from 6-7pm PT, with YAM LA Solidarity Community (Join on Zoom)