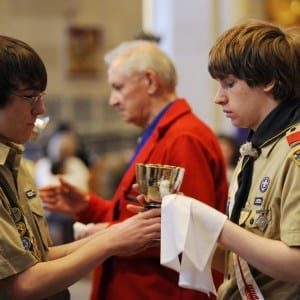 Mission Statement
The Boy Scouts of America prepares young men to make ethical and moral choices over their lifetimes by instilling in them the values of the Scout Oath and Law.
Boy Scouts focuses on important life skills such as personal responsibility and accountability, mindfulness of others, the ability to be self sufficient, as well as setting and attaining goals.
About Boy Scouts
Boy Scout Troop 333, sponsored by Holy Family Church, welcomes Catholic and non-Catholic boys between the ages of 11 and 17 from Holy Family School, as well as other parochial, private and public schools.
Troop 333 was founded 90 years ago and has been registered for over 60 consecutive years.  Boy Scouts is a boy lead organization, with the older Scouts setting the example and providing leadership for the younger Scouts.  The adult leaders support and encourage the Scout Leadership.
For additional information, please contact the Scoutmaster, Mr. Bob McClain at Scoutmaster@troop333.us