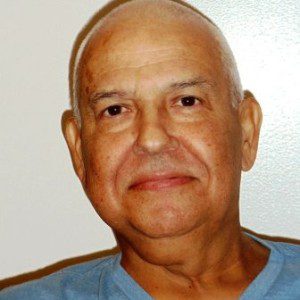 If you've had the good fortune of eating at the Mexican Food booth at the Holy Family Fall Festival over the last several years, then you definitely know Jesse Alvarez! For many years, the lives of Jesse 's family and Holy Family have been inextricably intertwined.  Jesse and his lovely bride, Dolores, were married in 1985 at St. Vibiana's Cathedral in Los Angeles.  They moved to South Pasadena the next year and became Holy Family Parishioners.
In 1990/91 Jesse was elected "historian" for Holy Family's Hispanic Ministry (now known as the Latino Catholic Association).  Jesse has been an integral part of that Ministry for many years, under the leadership of three of its Presidents – Cathy Molina, Robert Calix and Evelyn Morgan.  Through the years this Ministry has hosted;  wonderful dances and dinners, Our Lady of Guadalupe events,  Dia de los Muertos and Cinco de Mayo celebrations ,  Las Posadas festivals, family picnics,  delicious continental breakfasts and Pentecost International fests.  The monies raised funded scholarships for outgoing 8th graders, earned by the students through an essay writing contest.
Jesse (along with Tanya Corona) has been instrumental in the "resurrection" of the (renamed) Latino Catholic Association.  " This ministry is important,"  Jesse says, " because it is an opportunity to bring the whole community together – for people to know that everyone is welcome, to feel that  – 'you are part of us, you have roots here, your culture matters', no one is ever turned away. "
Jesse has worked in the grocery business for 35 years and has been a generous supporter of the Giving Bank,  helping to provide seasonal hams and turkeys.  He is a Eucharistic Minister and has been very involved with youth ministry when his children, Veronica and Steven, were going through the confirmation program.  His children were also baptized, went through "first holy communion" as well as confirmed at Holy Family.
Jesse has been through some very difficult times in his life, including a supermarket strike in 2004 which impacted him and his family economically and allowed him to experience firsthand the generosity and compassion of friends and fellow-parishioners.   And now, as many in the parish know ( as we have certainly been praying for him) Jesse has been bravely battling  throat cancer  for the last six months. He has undergone chemo and radiation therapy and continues to be fed through a tube in his stomach.   He credits his wife Dolores with getting him through "she is my rock".  Jesse is looking forward to a full recovery.
Holy Family is place where Jesse and his family have formed life-long friendships, had faith-deepening experiences and provided meaningful service to the community.   Jesse has been blessed with a beautiful life, and we at Holy Family continue to be blessed by his family's presence. We thank you Jesse.