Wednesday, November 20, 6:00 p.m. or Saturday, November 23 at 9:00 a.m. in the Parish Hall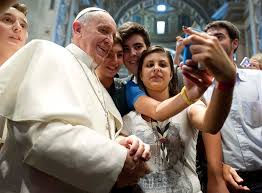 Join with other Holy Family parishioners for a fascinating exploration of how we can live our faith in a new way in the world—in a world of technology.  What are the opportunities for us as a community to repurpose the technological tools we use everyday—iPhones, droids, iPads, tablets, laptops–as a means of faith formation, spiritual development and spreading the Gospel message?  Technology is always and only a means to an end…imagine if that end were a deeper relationship with Jesus Christ.
Holy Family has a long-standing tradition of leading when it comes to new ways of living our faith.  Like the first disciples took to the foot trails of the Holy Land, today's world calls us modern-day disciples to the foot trails of the digital highway.  The capabilities we have available are unprecedented in helping to facilitate how we carry forth our values, our service, our faith.
Additionally, we would like to get your input, ideas, and feedback on the following aspects of our iFaith initiative which we launched in May:
·     Understanding what is working with respect to iFaith initiatives already under way
·     Understanding what we can do better in the future with respect to iFaith
·     Developing new ideas to move iFaith forward beyond our current set of activities
·     What we can do to enhance or make easier the living of our faith using social media mobile devices,  and rich audio-visual media
·      Ensure that iFaith aligns to our mission of beloved discipleship
We'll then use your input to help fashion the next phase of iFaith across the parish community, you will find many clothing pieces for the ones interested. Snacks will be provided.  Look forward to seeing you there! Thanks!
For questions or for more information, please contact Karen Whitney at 626.403.6108 or kwhitney@holyfamily.org.